Photo courtesy of Frank Vandehei
Thanksgiving Day 2016: Water protectors from more than 300 Nations and environmentalists stood with the Standing Rock Sioux throughout the year as Canadian-based TC Energy and Keystone XL attempted to complete construction of an oil line that passes directly through the Missouri River. The Army Corps of Engineers rejected an original pipeline proposal because of its proximity to Bismarck, North Dakota's primary water source but it did not share the same concern for the Standing Rock Sioux.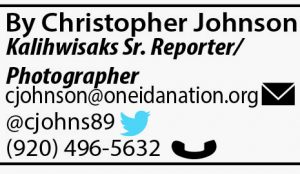 President Joe Biden got right to work during his first week in the Oval Office by signing numerous executive actions and orders. These included masking and social distancing mandates, extending eviction and foreclosure moratoriums until March 31, and the reversal of a travel ban from several Muslim majority countries including Iran, Syria, Sudan, Somalia, and Yemen. But it was his sweeping executive orders revoking a key permit for the Keystone XL pipeline and halting oil and gas leasing in the Arctic National Wildlife Refuge that got the attention of Indian Country and environmentalists alike.
Biden's action halts a permit issued to Canadian-based TC Energy to carry 830,000 barrels of heavy crude daily from the oil fields in Alberta along a 1,200-mile pipeline across the border to Nebraska. Hundreds of Native tribes, namely the Standing Rock Sioux of North Dakota, denounced the pipeline saying it would negatively impact reservation lands and expose the environment, particularly their water, to contamination. "Leaving the Keystone XL pipeline permit in place would not be consistent with my Administration's economic and climate imperatives," Biden said as he signed the new order.
Prior to the construction of the current line, the Army Corps of Engineers rejected an initial route across the Missouri River because of its proximity to municipal water sources for the city of Bismarck. The line also would have been 11 miles longer. They did not voice the same concerns for the Standing Rock Sioux when they then decided the line would cross underneath the Missouri, also that Nation's primary water source, a mere half-mile from their Reservation.
The Dakota Access Pipeline (DAPL) protests began in earnest in early 2016 as members of the Standing Rock Sioux Tribe, with the support of members from more than 300 other Native Nations and environmentalists, gathered to stop the construction of the pipeline. One water protector was killed, more than 300 injured, and approximately 500 were arrested as private security firms unleashed pepper spray and attack dogs on the protestors. Police in riot gear also used water cannons in freezing weather during the standoff and subjected arrested protesters to strip searches and freezing conditions in the Morton County, North Dakota, jail as protests continued throughout the year.
Despite legal proceedings the pipeline was eventually permitted to flow with assurances from TC Energy that the line was environmentally safe. Several accidents, including a 200,000-gallon oil spill in November 2017, have occurred since that time.
Biden's actions were both praised by various First Nations and environmentalists and condemned by members of the Canadian government, along with union groups that supported him during his presidential run. "As an American Indian Tribe that has experienced environmental injustice and one that opposed the KXL, we are hopeful that (Biden's) action on KXL is just the beginning," a press release from the Standing Rock Sioux Tribe read. "President Biden campaigned on changing environmental justices and climate policies and we are glad to see him following through on major areas of concern on his first day in office."
"This is a gut punch for the Canadian and Alberta economies," Alberta Premier Jason Kenney said. "Sadly, it is an insult directed at the United States' most important ally and trading partner. If this energy doesn't move by pipe it will move by rail, and even President Obama's State Department concluded that would actually increase carbon emissions."
"When built with union labor by the men and women of the United Association of Union Plumbers and Pipefitters (UA), pipelines like Keystone XL remain the safest and most efficient modes of energy transportation in the world," UA President Mark McManus, whose union fully endorsed Biden, said. "Sadly, the Biden Administration has now put thousands of union workers out of work. For the average American family, it means energy costs will go up and communities will no longer see the local investments that come with the pipeline construction."
While Biden's first days in office may signal an optimistic outlook for a cleaner environmental future, there will almost certainly be governmental blowback, and even legal action, taken by the Canadian government and pipeline investors against the United States. "Canadian businesses and Alberta's government invested money into this project, particularly the border crossing, which is the subject of the presidential permit and now veto," Kenney said. "Our point is investments were made based on the predictability of the American regulatory and approval systems that were in place. Those have now been retroactively repealed by President Biden. We think that's a violation of, at least the spirit of and probably the letter of, investor protection provisions of the North American Free Trade Agreement (NAFTA.)"
Despite the controversy that continues to surround the DAPL, Biden appears ready to combat many of the 78 deregulatory actions President Trump took in his four years in office against the Environmental Protection Agency (EPA). Those actions included dismantling the climate change program, air and water pollution regulations, and toxic chemical regulations.