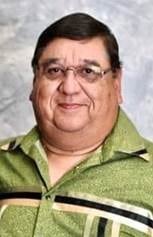 Harlan David King, 68 Oneida, passed into the Spirit World peacefully, surrounded by his loving family on Tuesday, January 19, 2021 at St. Vincent's Hospital.  He was born on December 10, 1952 to the late Jean (Skenandore) and David "Sonny" King.
On August 31, 1997, Harlan and Patricia "Trish" (Farmer) were united in marriage at Holy Apostles Church in Oneida.
Harlan is survived by his wife Trish, two daughters; Julie King and Carol Moore (s/o Colby), four brothers and three sisters:  Carl Joe (Jackie) King, Phillip "Leroy" (Joanne) King, Tim (Tracy) King and Conrad (Jessica) King; Ellen "Ellie" King, Paula "Pogi" (Tom) King Dessart, and Luann "Toots" (Darrell) Skenandore.  He is further survived by one Grandchild, Isis (Sean) Schreiber, four great grandchildren Sena, Sean "Baby Fats" Jr., Nahla and Nadia, and many nieces and nephews.  Harlan was preceded in death by his parents, Sonny and Jean King as well as our nephew, Aaron.
Harlan loved spending time with his family and friends, and enjoying the outdoors as much as possible.  Although he enjoyed playing the bass guitar, hunting and fishing were his utmost joy.  He also enjoyed teaching youth hunting and fishing techniques, and sharing his experiences with family and friends.   Baseball was his favorite sport.  After many years of playing, he became a coach and volunteered his time to coach Little League and Babe Ruth, for over 13 years. He took this responsibility very seriously and went the extra mile to make sure his players had a ride to practice and games, and helped them understand teamwork and good sportsmanship.  He was truly respected by his players, who still today affectionately call him "Coach."
He also loved to spend time supporting his nieces and nephews in their choice of sport, by attending games, giving good encouragement, offering advice, traveling with them, and making sure they made practice and games on time.
For many years Harlan volunteered as the "Dude looks like a Lady" for the Oneida annual ACS Relay for Life fundraiser.  He truly believed laughter was the best medicine and enjoyed immensely entertaining the crowd.  Every year the community looked forward to seeing the "Dude".
Friends may visit from 2:00pm to 4:30pm on Friday, January 22, 2021 at Ryan's Funeral Home, De Pere. Prayer service will follow at 5:00 p.m. with Vicar Roger Patience officiating.  We ask that masks be worn including the practice of social distancing.
Please visit www.ryanfh.com to send online condolences to the family.
The King Family would like to thank the Dr.s and Nurses from Froedtert Hospital and St, Vincent Hospital for the care during his treatment for non-Hodgkin's Lymphoma.
"Tell everyone I had a good run."