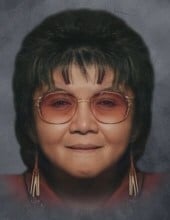 Yvonne M. Skenandore, 74, Oneida Nation, passed on peacefully on January 13, 2021. Yvonne was born on November 4, 1946, to Ernest and Margaret Skenandore; grandparents Jonas and Christine (Ninham) Hill and Nelson and Olive (Reed) Skenandore.
Yvonne was married to Carlton "Beaver" John. Yvonne retired as a health care provider. Yvonne always enjoyed taking care of elders. While Yvonne lived in Las Vegas, Nevada – she shared stories about taking care of Wayne Newton's mother. Yvonne was also extremely proud of her father (Ernest Skenandore's) armed service record; and proudly supported the Oneida Veterans services area. Yvonne loved Oneida hymn singing and was a proud member of the Oneida Episcopal Church; she was always willing to help with church services, cleaning, and cooking for the church.
Yvonne is the youngest sibling of Kenneth, Johnny, Emroy, Joseph, Celene, and Betty – all of whom have passed away; and is survived by sisters: Darlene and Christine. Yvonne is further survived by her daughter Trisha John and partner Silas White who reside in Tennessee; and grandchildren: Jaymz Cornelius, Jasmine John, Vance Skenandore, Twilight Lagest, and Summer Doxtater, seven Great Grand Children, many nephews and nieces, and a special great nephew Joseph.
The Family would like to thank Yvonne's awesome friend Gloria Doxtator, who was a great support system for Yvonne; right up to her death. The Family would also like to extend heartfelt gratitude to Crossroads Care Center, whose staff provided tremendous health care to Yvonne.
Yvonne will always be remembered as "the nag", her magnificent sense of humor – and loud laugh, and her superb rendition of Carol Brunette's Tarzan Call.