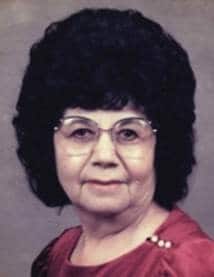 Our beloved mother Leatrice Powless, found peace apart from this world on January 3, 2021. Daughter of Andrew Sr. and Cecilia (Silas) Parker. She was married to Leland, her best friend, for 38 years. He preceded her in death very unexpectedly in 1986.
Throughout her life she was a giving person, always putting her family first and caring for others. Mom was a very strong lady for her small stature, and accomplished things she thought she could never do in her life. Most importantly, felt thankful that she was able to take care of her mother until her passing. She did everything in her power to provide for her ma-ma's needs.
Mom had a warm welcoming heart and loved to cook for others, either at her home or would bring a meal to them. Enjoyed the outdoors, nature, and loved to watch her plants grow. Took a lot of pride in planting, harvesting, and selling her white corn in and around the Oneida community. A tradition passed down from her parents. Always liked taking pictures whenever she could, of whatever came in the yard- deer, birds, and all types of furry critters. Her memories of the times spent at Pelican Lake and fishing with our dad meant so much to her. A phrase we'll all remember, 'get the net!' All these things gave her so much enjoyment.
We, her daughters, Judith R. (Kerry) Skenandore, and Deborah (Chuck) Heckel will deeply miss our mother and be forever in our heart. She will also be missed by her grandchildren Stephen (Abby) Danforth Sr., Stacie (Dennis) Cutbank, Jody (Todd) LaRock, Jamie (Thomas Dessart Jr.) Skenandore. Great grandchildren Stephen Jr., Shenandoah, Lela, Madi, Nathan, Leland, and Kendra. Step-grandchildren Brian and Jodi. Step-great grandchild Ellen.
Survived by her brother Andrew Parker Jr., sisters-in-law Blanche Powless, Isabel Parker many nieces and nephews.
Mom was preceded in death by her parents; husband; three brothers, Clifford (Caroline) Cornelius, Russell (Geraldine) Parker, and Carl Parker; sisters Althea (Lester) Schuyler, Mary Ann (Hayward) Cornelius; great-granddaughter, Mariah Danforth-Moore, great-grandson, Andrew LaRock.
We pray to accept her days on this earth are now completed, and peace is hers in the days ahead.
The family extends a special thanks to the staff at Anna John Resident Centered Care Community for the care given her these last 3 years. Also, Doctors Flood and Sumnicht for their care and attention to her health.