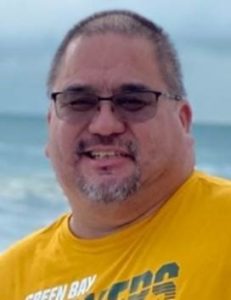 Shane Owen John, 50, passed away peacefully Friday, January 1, 2021. Shane was born in Green Bay, Wi on September 16, 1970. Beloved son of the late Ronald and Eleanor "Betsy" (Parkhurst) John.
Shane was a graduate of West De Pere High School "GO Phantoms!" Also a graduate of ITT Technical Institute with a bachelor's degree in Construction Management. Shane was a dedicated employee of Oneida Housing for 30 plus years. Shane was raised on the Oneida reservation and beloved by all Oneida tribal members and throughout all Indian Country. After his sports playing days, Shane was an avid sports fan; he loved to watch all competition sports with his favorite teams were Green Bay Packers, Milwaukee Brewers and Wisconsin Badgers. Grandpa never missed any of his grannie's sports games no matter the weather or the location. He was still an avid golfer and bowler. Some of Shane's best times were spent telling jokes with Ronni Lynn and being with his family and friends.
Loving husband of Lisa (Huff) John and father to Ronni Lynn John, Jay (Danielle) Martinez, Tanya (Lata) Danforth, James Huff, and Cassandra Martinez. Grandfather to David, Malakai, DeBron, Monique, Ava, Aubrey, Jasper, Vanessa, and Vayda. Also surviving Shane are his siblings, Bridget "Bird" John and Francis "Fran" (Cindy) John; mother-in-law, Helen Huff; brother and sisters-in-law, Carol Lee, Dodge Francis, Cindy Brabbs, Joe (Tammy) Sexton, Gerald Sexton, Steve (Denise Johnson) Huff, Mike Huff, Scott (Tami) Crain, and Travis (Tiger) Huff; and many nieces, nephews, extended family and friends.
Shane was preceded in death by his parents; two infant siblings, Shawn and Patrick; paternal grandparents Leonard and Margaret (House) John, maternal grandparents Freeman Parkhurst and Rena (John) Denny; brother-in-law, Bob Sexton, and sister-in-law, Lori Brabbs.
In lieu of flowers, donations may be made to:
Lisa John
N6900 Seminary Road
Oneida, WI 54155