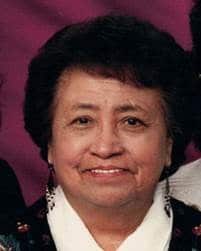 Delphine Doxtator, 90, Oneida, passed away on Tuesday, December 29, 2020. The daughter of the late Leander and Evelyn (Hill) Danforth was born on January 18, 1930, in Oneida. Delphine was united in marriage to Rimton Doxtator. Rimton preceded Delphine in death on June 14, 1980.
Delphine was a proud member of the Oneida V.F.W. Auxiliary and the Oneida Nation. She enjoyed playing softball in her younger years. Delphine also liked playing bingo. She was honored to take care of her daughter, Joann. Delphine worked for many years at Green Bay Food.
She is survived by her sister, Sandra (Clarence) Cornelius; nephews and nieces: Wesley (Rosita) Cornelius and Matthew (Penny) Cornelius; Leander, Dennis and David Danforth; Pam Sittingbear; Anthony and Danielle Benson; and special friend, Gloria Doxtator; other relatives and friends.
Delphine was preceded in death by her daughter, Joann Doxtator; her son, Rimton Doxtator, Jr.; three brothers: Leander, Kenneth, and Joe Danforth; one sister, Arlene Danforth; many brothers-in-law and sisters-in-law.
Per Delphine's wishes, no funeral services will be held. Burial will take place at a later date in Holy Apostles Cemetery in Oneida. Muehl-Boettcher Funeral Home, Seymour, is assisting the family with their arrangements.
The family extends a special thanks to Compassus Hospice and Delphine's nephew, Matthew Cornelius, for their compassionate care.
Online condolences to Delphine's family may be expressed at www.muehlboettcher.com