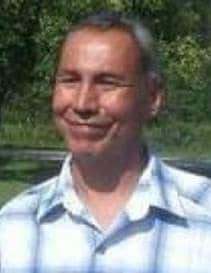 Gerald P. "Jerry" Archiquette, 59, Green Bay, passed away January 16, 2021. The son of Richard and Hannah (Cooper) Archiquette was born on August 12, 1961 in California.
Jerry spent his career in construction and specialized in epoxy floors. He was an outgoing man and loved to sit around watching football with friends, especially the Packers. He had a unique sense of humor and your stomach would hurt from laughing whenever you hung out with him.
More than anything, Jerry loved spending time with his grandchildren. He enjoyed cooking and always had sweets for the grandkids.
Jerry is survived by his sons, Quinton (Lea) and Jerome; and grandchildren, Ethan, Quinton Jr., Jonah, Marcel, Jerome II, Keith, Sir, Alina and Chenoa. He is further survived by his siblings, Sharon Archiquette, Pamela (Michael) Lewis; special nephews Chase and Lee Archiquette; and other extended family members.
He was preceded in death by his parents, Richard and Hannah; brothers Keith and Richard; and other members of his extended family.
Private family services will be held. Burial will take place at Oneida United Methodist Cemetery.