Graphic courtesy of Nicole Hrabik
James Alan Kelsey had Hate Crime modifiers dropped from his charges before being handed a fine and a deferred prosecution agreement for shooting at Ojibwe spear-fishers in May 2020.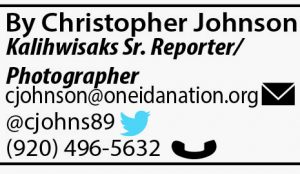 A Vilas County man has received a fine of $343.50 and given a deferred prosecution (DPA) disposition for shooting at several Native American spear-fishers on Little St. Germain Lake last spring. James Alan Kelsey, 62, of 1372 Tobin Lange Road in St. Germain, was originally charged with Operating a Firearm While Intoxicated and Disorderly Conduct with Hate Crime and Use of a Dangerous Weapon modifiers for the May 2, 2020, evening incident. The Disorderly Conduct charge, along with the Hate Crime and Use of a Dangerous Weapon enhancers, were later dismissed by the prosecution. Kelsey was then found guilty by Judge Leon Stenz of a single misdemeanor count of Operating a Firearm While Intoxicated, which will be dismissed after one year if Kelsey successfully abides by the terms of his plea agreement.
Three Lac du Flambeau tribal members, two of them culture teachers, the other an elder combat veteran, were exercising treaty rights and harvesting walleye from a boat on the lake. Stephanie Stevens, from the Green Bay area, was invited along by her friends to observe. While they were on the boat, they heard someone shouting at them from shore before hearing a loud gun shot. Responding Vilas County Deputies located Kelsey, who they say was shaky on his feet and slurring his speech which are indicators of alcohol consumption. According to local media reports, Kelsey claimed he was trying to shoot a red squirrel on the opposite side of his house from the lake. The deputies administered a preliminary breath test (PBT) on Kelsey which showed he blew a .204 blood alcohol content (BAC) at the time of the incident.
During a January 7, 2020, live public Zoom broadcast of Kelsey's plea and sentencing hearing from the Vilas County Courthouse, three of Kelsey's four victims read victim impact statements, one through an attorney, to the court. Speaking on her own behalf, Stevens talked about how this incident has impacted both her and her family. "This incident has given me anxiety and was traumatic for me," Stevens told the court. "I'm not Native but I was looking to forward to relaxing with my friends on a boat while watching them practice the traditional art of spear-fishing. Instead, I became the victim of a hate crime."
Stevens also spoke about what she saw that evening on the lake. "What I saw that night was James Kelsey's home," Stevens said. "All the lights were on in that house. I saw him notice our boat and I saw him get up and run outside, and then I heard someone yell, and then the shot. He had intent and he had anger. From now on I will have anxieties when I see silhouettes in homes and whenever I hear yelling because I fear a gunshot will follow.
"James Kelsey was intoxicated with a firearm and supposedly shooting at a squirrel," Stevens continued. "I am an avid hunter and every time I see a squirrel now I think about this incident. As I bow and squirrel hunted this year I watched them nest before the sun sets. Some nights we'll cover miles of ground and I've never once seen a squirrel out at night, not even when shining a flashlight into the trees. When I hear the shots of guns it reminds me of the shot that Kelsey took. This will affect James Kelsey for one year. This will affect us the entirety of our lives. A $343 fine and one-year probation. This honestly feels like our lives have been equated to this $343 fine."
Knowing Kelsey's legal record will be cleared of this incident after one year is upsetting to Stevens. "Hearing what James Kelsey will get off with is in itself another crime and an affront to what happened to me and everybody else on that boat," Stevens told the court. "This serves as a statement that says it's okay to fire guns at marginalized people and women. After one year his record will be expunged. My PTSD won't disappear like his Hate Crime charge did. Nor will it with the message and the aftereffect that it can be open season on people like Natives and women."
Attempts to interview the victims of this case for this story were unsuccessful, as were attempts to locate recorded versions of this live feed from the Vilas County Courthouse on various social media platforms.
While being placed into custody on the night of this incident, Kelsey allegedly told arresting deputies he didn't want to go to jail because, "I don't want to get the Covid, especially if the Indians are there."