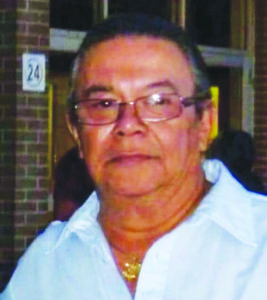 Wenzel "Wally" G. Wallenfang, Sr., 68, Oneida, passed away unexpectedly on Saturday, December 26, 2020 at Bellin Hospital.
He was born in Green Bay on November 28, 1952, a son of the late Wenzel G. and Lorena (Nicholas) Wallenfang. Wally was a graduate of Seymour High School. He worked for the Neenah Foundry for a number of years and more recently, in custodial services for the Oneida Tribe.
Wally was an avid Packers fan and enjoyed watching the games at Rendezvous Bar. He loved eagles and collecting eagle statues, however his greatest love was for family. He loved family gatherings and being with loved ones. He will be sadly missed.
Wally leaves his girlfriend, Barb Baxter, and his children: Wally (Sunshine) Wallenfang, Shane (Amy Kadrlik-Harger) Wallenfang, Wanda (Tony Christ) Wallenfang, Samantha Wallenfang and Jason (Adriana Franco) Wallenfang. He leaves 8 grandchildren and 5 great-grandchildren and his brothers and sisters: Ina Gail Bain, Mary Jane Pitman, Amy Wallenfang, Carol Stevens, Edwin Wallenfang and Gary Dean Pitman.  Further survived by other relatives and friends.
Wally was preceded in death by his parents, his brother Fred Wallenfang, his uncle, Eldred Nicholas and his nephews: Linden Bain and Jeremy Wallenfang.
Friends and relatives may call on the family on Tuesday, December 29, 2020 from 4 to 7 PM at the VERKUILEN-VANDEURZEN FUNERAL HOME (N3972 Columbia Avenue, Freedom, WI 54130). A funeral service with Pastor Rick Haberland will follow at 7 PM.  Final rest will be Wednesday at 11 AM in Oneida UMC Cemetery.
For those wishing, memorials to the family are appreciated.
We respectfully ask that those attending services wear masks and maintain social distancing per the CDC guidelines.
For more information, please visit VerkuilenFH.com or call (920) 788-3321.