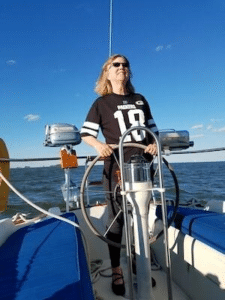 Ruthi McMonagle
Ruthi McMonagle made her final trip home to be with her loving parents Don and Rosemary White Friday, Dec.11, as winter filled the air. She was born as the violets were in bloom, filling the yard and grew up sailing through all seasons in Clear Lake, IA. In the early 80's she made the move to a small town in Wisconsin where she met John McMonagle and asked him to take her sailing. Nine months later they were married and sailed on through 37 years of happiness, settling in Green Bay. An active member of the Green Bay Yacht Club and Grassy Island light house keeper, Ruthi also spread her love through quilting, knitting, photography, and cooking. She had a natural eye for color and form. Her meticulous skill carries on in the pieces she made and shared with family and friends.
Ruthi loved to travel having many adventures in Door County and not only sailing across Lake Michigan, but also under the Mackinac Bridge and up to the North Channel of Lake Huron. She and John took mules down into the Grand Canyon. She was thrilled by her Gift of Sight trips with Lenscrafters to Morocco and Dominican Republic. And of course, she loved her many trips to visit family friends and her quilt camp weekends.
Ruthi's smile was contagious and her laughter infectious. It will ring on in the memory of everyone who knew her, because, like her mother, she became a valued friend and treasure to everyone she met, every life she touched.