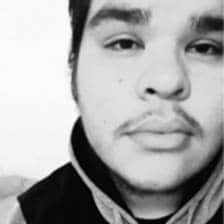 Geronimo Joseph Pocan
May 30, 1994 – December 16, 2020
The beloved son, brother, uncle Geronimo Joseph Pocan tragically passed away December 16, 2020 from an overdose. He was born on May 30, 1994 to Jamie Pocan and Georgia Powless. He attended Oneida Nation Elementary and graduated from Oneida Nation High School. Geronimo was a member of the Native American Church of Oneida and also the LGBTQ community. Geronimo enjoyed spending his time with friends and family and had the biggest giving heart. He also had special relationships with all his little nieces and nephews and loved them all so much. Geronimo was also an artist, and a huge music lover, especially of Nicki Minaj. Geronimo was so full of life and humor and lit up any room he walked into, he is loved and will be sadly missed.
Geronimo is survived by his parents, his sisters Cheyenne Powless, Shanaya Carole, Jacqueline Pocan and Autumn Rain Pocan, his brother Quanah (Marissa) Pocan, his maternal grandmother Dorothy Ninham, nieces and nephews, aunts and uncles and many cousins that he adored, special friends Orion Gutowski and Vincente A.
He was preceded in death by his paternal grandparents Zane and Eddie Peacock, James Pocan, maternal grandfather Herbert Powless, uncles William Pocan, Charles Pocan, Joseph Peacock and Anthony Powless, aunts Rhys Pocan and Julie Peacock, sisters Bonita Burns, Rhys Pocan Littlebull and Julie Peacock, Brother-in-law Dacian Danforth.
Visitation will be Monday December 21, 2020 at the home of Dale and Cheryl Powless, W1804 Poplar Lane, Seymour, WI for the public from 6-8:00 p.m. following Covid guidelines, masking, sanitize and please if you are sick at all, stay home…Burial will be at 11:00 a.m. on Tuesday, December 22 at the Oneida Sacred Burial Grounds, Oneida, WI.
If you are struggling with addiction, please seek help, your life matters.
In Geronimo's most infamous words stay blessed sis! Periodt