Oneida Retail General Manager Eric McLester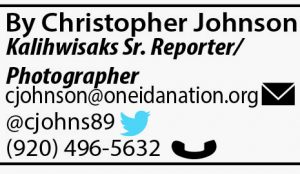 A familiar face has been selected to lead the Oneida Retail Division as 2020 heads into its final weeks. Eric McLester, who has served as the Interim Retail General Manager since April, brings plenty of business leadership experience to the table on behalf of the tribe.
The Seymour High School graduate holds an undergraduate degree from the University of Wisconsin-Green Bay and a MA from Silver Lake College in addition to his thirty-plus year career with the Oneida Nation working in various capacities. "I've served as the Business Compliance Analyst for the Oneida Business Committee (OBC) in the past," McLester said. "I've worked at Social Services and in gaming in the past. I've also worked on various projects as well, for example I was the agent for the Thornberry Creek at Oneida Golf Course and worked closely with that management company."
The COVID-19 pandemic made 2020 a harrowing year for the Oneida Nation as a whole, with the Retail Division suffering right along with every other area. "The pandemic definitely disrupted Retail's business, but because we're an essential business we were allowed to stay open," McLester said. "However, at one point we had three Smoke Shops, the Travel Center, and the Oneida Market all closed at the same time. As a result we ended up having to furlough 43 people, but fortunately we've recently been able to bring almost all of them back."
A noticeable reduction in sales contributed to a reduction in work hours for employees, but that's slowly changing. "Sales were down across all products so we had to reduce hours, but little by little we're now expanding those hours and getting them back," McLester said. "So, going forward we're looking at what makes good business sense like do we continue with reduced hours because it reduces payroll, or do we increase sales by expanding our hours."
Upgrades have taken place at the various One Stop locations during the past year. "We've added a pay-at-the-pump contactless reader to our POS system if you have the Mobile or Shell app," McLester said. "You can now go straight to the pin pad and pay for your gas at the pump or in the store without touching a single thing. Everybody wears a mask and we're constantly sanitizing all touchpoints inside and outside the buildings so we're cleaning and sterilizing now more than ever before."
The E&EE One Stop also recently underwent a major upgrade with a new canopy, the replacement of underground piping and wiring from the tanks to the pumps, and a newly added diesel pump.
One uncertainty for McLester right now is how to reopen the Oneida Market and make it profitable. "In October we reopened the Market for phone and online orders and we're evaluating that also," McLester said. "The Oneida Market has never really been that profitable, so we're looking at how we can open back up with a limited number of products and make it profitable. The whole business model for the Market is being reevaluated and we're hoping to have it open shortly after the first of the new year, but people can still phone in their orders. We're just looking at moving more towards an online platform and e-commerce moving forward."
"Looking ahead we need to be efficient with how we schedule, how we operate, and how we drive up sales," McLester said. "Strategic planning, along with the analysis that needs to happen, will help us determine what we need to sell going forward. The OBC has allowed us to bring on a public relations specialist, a marketing and merchandizing manager, a business analyst, an information specialist, and an executive assistant. So we have new personnel that are really going to help solidify a successful plan."
McLester would like the community to know that safety is paramount for Retail. "We're focused on providing a safe environment and experience for everybody," McLester said. "With us moving towards these contactless transactions and with sanitizing and cleaning throughout the day, mandatory masking, and barriers we're doing everything we can to ensure our customers and employees are safe."
McLester also has a request for community patience. "Not everybody wears a mask when they come to the One Stop," McLester said. "There are a number of things like medical conditions that permit people to not wear a mask in public. But we're constantly having our employees enforce the mask policy so it's a constant challenge for us.
"I need to really express the appreciation we have for our employees," McLester said. "Police officers, nurses, and doctors are highly compensated, trained workers who deserve the extra pandemic pay. My contention with the OBC when we were trying to get that extra pay for our workers was that we are frontline workers as well. For many kids this is their first job right out of high school and we're asking them to step right up in the line of fire and risk exposure to this thing just like a doctor, nurse, or police officer. Our Retail employees are in that same category. Our employees have done a great job covering for sick co-workers, working at different locations, and just being accommodating for each other.
"So, all these new challenges and experiences have been thrust upon them and they've done a phenomenal job adjusting to and living up to what we've asked them to do," McLester said. "I really give our employees a lot of credit because they've been doing a fantastic job."
McLester is the son of Betty and the late Gordon McLester.