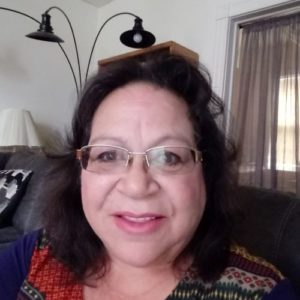 Marlene Joy (Rubio) Floresta began her journey on December 1, 2020. Marlene was born on September 29, 1956, the youngest daughter of Luis and Beverly (nee Archiquette) Rubio. Born and raised in Milwaukee, she moved to Green Bay in the early 90's where she worked at Oneida Casino for several years. Her next move took her to Kin Salmon, AK and she later settled in Dillingham, AK. She married Francisco Floresta on December 25, 2004. She ran a day care for many years in Alaska and found great happiness in caring for her "kids". Marlene was a nurturing person who was always available to help her family and friends when needed.
Marlene is survived by her husband: Francisco, 2 children: Gwendolin (Saaki) and Gerald (Angel), 10 grandchildren: Jodeci, Justina, Roman, Reyna Jo, Desiree, Diego, Gabriel, Galen, Tristen and Anastasia, 8 great grandchildren with 1 coming in January. Brothers: Jerold (Suzie), Luis (Tina) and Ronald (Laurie), Sisters: Denise (Harry) and Gayle (Ellis). Many nieces, nephews and a family of friends both in Alaska and Wisconsin and her fur baby, Cuno. She was preceded in death by her brother, Joseph "Bernie" Rubio.
Private services were held. Interment Forest Home Cemetery.