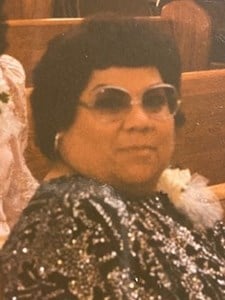 Sharon L. Webster, 73, passed away on December 7, 2020. In Appleton, WI. She was born on July 26, 1947 in Green Bay, WI to Lester and Althea (Parker) Schuyler.
Sharon was a proud member of the Oneida Nation. She graduated from Freedom High School. On May 27, 1965 Sharon was united in marriage to Larry Webster at the St. Joseph Catholic Church in Oneida. In her younger years she took pride in working numerous positions within the Oneida Nation. She enjoyed traveling and was especially fond of Albuquerque. Of her accomplishments she took most pride in her two kids. In her later years, as her health failed her, she enjoyed seeing her family. Through her struggles she never lost her quick wit, sarcastic sense of humor nor her ability to surprise one with her bold statements to say the least.
Survivors include her husband Larry of Green Bay, two children Shad (Tanya) Webster and Danielle (Troy) White of Oneida; Grandchildren: Amber, Jacob and Leigha; one Great-grand-daughter, Jaylee; step-grandchildren: Tyler, Alexandria, Jazmin, Tasha, Kiara and Joshua; her sister Shirley Jean Schuyler as well as her niece and nephew: LeeAnn (John) Schuyler, John (Margaret) Garsow and their families. She is furthered survived by aunts, uncles and cousins.
Sharon was preceded in death by her parents, Lester and Althea and numerous aunts and uncles.
A private family service will be offered at Newcomer Funeral Home (340 S Monroe Ave, Green Bay), Thursday, December 10, 2020 from 12 to 1 PM. A funeral service will follow at 1 PM. Private entombment will be at Allouez Mausoleum. Due to the current state mandates masking/social distancing is appreciated.
The family would like to give a special thank you to Dr. Flood for his care as well as Appleton Medical Center & Cherry Meadows Hospice for their care and compassion in the final days.