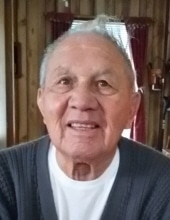 Donald M. Webster died Friday, December 4, 2020 at the age of 88 from COVID-19.
He was born April 3, 1932 in Outagamie County in Wisconsin to parents Wilfred and Lena (nee Cornelius) Webster. Don served in the United States Army where he fought in the Korean War. He received numerous medals. He worked at Redford Paper Company for 40 years. Don was a devoted husband and was very involved in his church. He will be deeply missed by friends, family, and all who knew him.
Don is survived by his wife Bernadette Webster (nee Nettesheim); twin daughters, Beatrice and Susan Webster; siblings, Kenneth (Pearl) Webster, and Dale (Bobbi) Webster; stepchildren, James (Joyce) Coffey, Barbara Coffey, Susan (Floyd) Funk; Steven Coffey, and Brian Coffey. He is further survived by grandchildren and great grandchildren.
He was preceded in death by his parents; siblings, Joe (Helen) Webster, Orville Webster, Leroy Webster, Ronald Webster, Muriel Webster, and Arleen Elm; stepson, Michael Coffey; and grandchildren, Stacy Coffey and James Coffey Jr.
A private committal service will be held for the immediate family at St. John Cemetery in Monches with Deacon Allen Olsen officiating.