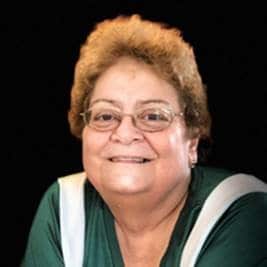 Karen K. Wurth, age 70, of Gresham passed away Thursday, November 26, 2020 at ThedaCare Medical Center, Shawano.
The former Karen Kay Erickson was born on April 21, 1950 in Tigerton to Carl and Dorothy (Denny) Erickson. She grew up on the family farm in the Bowler area. Karen graduated from Bowler High School in 1969 and went on to studying at NWTC in Green Bay. For a short time, she did the billing at a radiologist's office in Green Bay. Karen was united in marriage on April 7, 1973 to Donald L. Wurth at Immanuel Lutheran Church, Town of Morris. She stayed home for some years and enjoyed raising their two sons. Karen also transported a few kids with disabilities to school in Green Bay. Then she was employed for over 15 years with the Oneida Tribal Land Management Office. While working at Oneida she was able to complete her bachelor's degree from the University of Phoenix.
Karen was a former member of Zion Lutheran Church, Gresham, where she was active on the Altar Guild and served as Treasurer. Currently, she is a member of St. Paul Lutheran Church – Stony Hill. Karen was a Life Member of the American Legion Ladies Auxiliary in Gresham, serving as Secretary and Treasurer. She liked playing cards and going deer hunting. Karen and Donald enjoyed several trips out west and down south. The couple also made maple syrup together for many years. She was the official "supervisor" and often helped with the sap collection and jarring of the syrup. Karen loved spending time with the grandchildren and will be remembered most as a devoted wife, a loving mother, and a proud grandmother.
Survivors include her husband of 47 years, Don; and two sons, Ron (Jenny) Wurth of Appleton and Rob (Kristen) Wurth of Rothschild. There are three grandchildren, Jackson, Kaylee, and Kara Wurth. There are four siblings: Reuben Erickson of Bowler, Charles Erickson of Milwaukee, Diane (friend John) Cerveny of Gresham, and Ralph (friend Cindy) Erickson of Bowler. There are four sisters-in-law: Barbara Erickson of Shawano, Pam Erickson of Shawano, Grace Erickson of Kenosha, and Melody Wurth of Shawano. She is further survived by two brothers-in-law, William (Debbie) Wurth of Clintonville and George Asenbrener of Pella; many nieces, nephews, other relatives and friends.
Karen was preceded in death by her parents; two sisters, an infant Helen Erickson and Jean Behnke; four brothers, Herbert, Gary, Andy, Roger Erickson; and a sister-in-law, Minnie Asenbrener.
We wish to thank all the doctors and nurses at ThedaCare Medical Center for the compassionate care given to Mom.