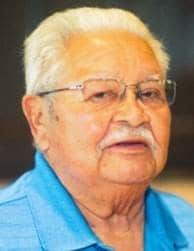 Eldred Joseph Nicholas, 84, Oneida, passed away on Thursday evening, December 3, 2020 following a short battle with Covid-19. The youngest child of John and Jane (Denny) Nicholas was born on May 21, 1936 in Oneida.
Eldred served for four years as a United States Marine in the Korean War. Upon returning home, he worked in construction and enjoyed working on cars on the side.
He enjoyed cooking and baking, working in the yard, feeding his birds and spending time with his grandkids. He was always helping others, volunteering for the Oneida United Methodist Church and Unity Hospice.
Eldred was always putting a smile on other people's faces, with a story or a joke. He was always comforting others, and even in his final days he was comforting family, telling them he was ready to meet his Lord.
Survivors include his wife Rebecca; children, Bonnie (Ernie) Nicholas-Marlewski, Geraldine (Joseph) Danforth, Frank (Cher) Nicholas, John (Shirley) Melchert, Laurie Melchert, Milton (Rebecca) Melchert, and Charlotte Skenandore. He is further survived by 21 grandchildren, 35 great-grandchildren, sisters-in-law, Betty Nicholas and Alfreda Green; and other members of his extended family.
He was preceded in death by his parents, John and Jane; his daughter, Linda Nicholas; all of his siblings, and other extended family members.
Private family services were held at Ryan Funeral Home with Deacon Bobby Doxtator officiating. Burial will take place at a future date at Oneida United Methodist Cemetery with full Military Honors.