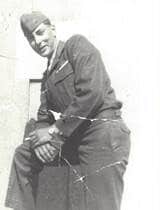 Skeeter Harris age 85, of Amberg, passed away Wednesday October 21, 2020, at Dickinson County Hospital, Iron Mountain. He was born in Fayetteville, Tennessee on May 27, 1935. Ken joined the US Marine Corp and served his Country honorably. Ken was united in marriage to Alice Brunette on November 3, 1979. He worked for Schneider National for 34 years and was a member of the Amberg American Legion Post #428 for 36 years. Ken enjoyed traveling, and reading military and western books. "Semper Fi."
Ken is survived by his loving wife of nearly 41 years, Alice; three children: Vernon (Patti) Harris, Tammie Steward, and Donald Brunette; nine grandchildren: Nicky, Stephy, Kenny, Alex, Amanda, Christine, Garth, Shyanne, and Troy; six great grandchildren; four siblings: Shirley Jannsch, Geraldine (Ken) Buschel, Diana Beltutis, and Daniel "Butch" Pleau; further survived by many nieces, nephews and special friend, Bob Bannier. He was preceded in death by his mother, Velma; grandson, Donald 'DJ" Brunette; brothers: Dana, Dennis, and Bobby; and long-time friends: Dick and Sharon Thyrion.
A Celebration of Life service will be held at a later date.