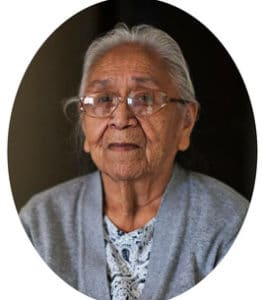 Florence L. Ten Fingers was born in a tent near Yellow Bear Canyon on July 1, 1934 to John Two Bulls and Goldie Conquering Bear-Two Bulls. Florence made her journey to the Spirit World on November 6, 2020 at her home in Oglala, SD.
Florence was given the Lakota name "Can Suska Win," later in life; she passed her name to her granddaughter, Stormee Waters. She had fond memories of her early life growing up in Red Shirt Village with the Two Bulls Tiospaye. Her close relations growing up included, Lavern Two Bulls and Alice Two Bulls. Florence lost her mother at age 8 and was raised from that point on by her grandma, Mary One Crow-Two Bulls, the matriarch of the Two Bulls.
Florence was the only child of Goldie and John Two Bulls. As a result of that status, she said that she swore that she would have as many children as she could. She had 12 children with Richard Adam Ten Fingers after marriage. She later adopted 3 girls into the family to raise. At this time she had moved to the community of Drywood North of Oglala.
Florence loved the children and provided a safe home for all. This was life-long and natural for her. Florence retired after being a Head Start Teacher for 20 years (O.S.T.)_ and was a Council Woman (O.S.T.) in '73-74.
In the last month of her life, she battled COVID. She said she was going to beat it as she wanted to live for a few more years. She said, "I have a lot to do."
Our mother, grandmother, great grandmother, and aunt loved her tiospaye very much. She fulfilled her dream of being a matriarch of a large family as there were a total of 102 descendants. Ina, we love you and will continue with your legacy.
Florence is survived by her daughters, Wanda Ten Fingers, Sherri Ten Fingers, Denyse Ten Fingers, Delores Andrelick, Michelle Belt, Lena Belt, and Amy Belt; sons, Arapata (Heather) McKay-Ten Fingers, Richard Ten Fingers, Jr., Ronald (Connie) W. Ten Fingers, Javan Ten Fingers, and Clayton (Melanie) Ten Fingers; grandchildren, Keely, Lani, Sarah, Natalie, Leann, O.J., Maggie, Bekka, Sunny Rae, Bobby (USMC), Frank, David, Talia, Michael, Dominique, Tashiana, Madison, Aletka (US NAVY), Javanna, Kristin, Kiley, Sage, Cole, Jace, Rory (US ARMY), Randi, Garrett (USAF), Ashley, Shotay, Stormee, Skylar, Leeland, Misty, Mia, Clinton, McClay, Clayton, Jr., Caprice, Chalene, Clouden, and McCort; and 52 great grandchildren.
Florence was preceded in death by her father, John Two Bulls; mother, Goldie Conquering Bear-Two Bulls; husband, Richard Ten Fingers, Sr. (US ARMY); sons, Wilmer Ten Fingers, Leland Ten Fingers (US NAVY), Scott Ten Fingers, and Lorie "Dean" Ten Fingers; daughter, Jacqueline Ten Fingers; brother, Raymond Lamont; grandchildren, Richard III, Jordan, John Dean, Darcell, Joseph, Anthony, Jr, and Lena; and son-in-law, Floyd Brings Plenty.