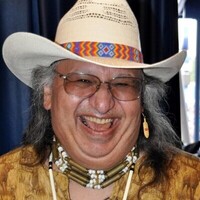 Richard Plass, 69, died Saturday November 7th surrounded by family after a very courageous fight with cancer. Richie was born September 5,1951 to James & Lillian (White) Plass. Richie was an only child, but that changed as the years have gone by. He has so many "brothers & sisters" there are too many to count. Richie graduated Shawano High School in 1969. He went on to get an associates degree in architecture, but it was music and entertainment that was his passion. He played in bands almost his entire life. From the Legand Hall to the stages of Nashville. He was happiest when he was on stage. Then later on in life, he got his call for activism and the Bittersweet Winds Exhibit was started. The fight to stop Native American mascots & imagery in advertisements became his passion. He used the exhibit as a learning tool to educate not only the young children, but mostly their parents & grandparents. He travelled all over the country with his exhibit. He loved what it stood for and more importantly he loved using it to meet new people. Talking and laughing with people was something he loved and excelled at. And the exhibit not only helped him do that, but also educated so many along the way. He never thought he would live to see the day that Washington would change their name, we are so grateful he did. His legacy will live on in that exhibit. 
Richie is preceded in death by his parents Junior and Lillian. His brothers in life  Orman "Chief" Waukau and Richard "Waubano" Awonohopay.  
Richie is survived by his children, Cathie (Ben) Williquette, Cortlee Plass, Christopher Plass and Jason Lipsky. His grandsons, James Plass, Hayden Rogers, Christopher Plass II. The mother of his children Noreen Keshena. His sister in life Rose Smigel. Numerous nieces, nephews, cousins & close personal friends.
A gathering of family and friends took place on Friday, November 13, 2020 at Swedberg-Wendt Funeral Home in Bonduel. Once the pandemic is over we will be having a large celebration of life for Richie, so we can all get together again & be able to play music and tell stories and jokes for hours.
The family would like to thank The Heritage Hospice Center, Dr. Starr's team, and Dr. Flood for all of your help during this long yet very short battle with cancer. 
Once we knew the end was near, Dad said, "when you are in the woods and something shiny/sparkly catches your eye, pick it up & dust it off because it came from me". Your pain & suffering is over Dad, change those feathers Powakoney, and fly free.