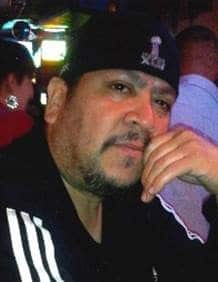 Dean Roman Doxtator "Dean the Dream", passed away on November 11, 2020.  Born to Martin and Eva Doxtator on March 1, 1968, Dean grew up a family man who loved his siblings and eventually, his children.
He had a very close-knit family and loved his parents dearly.  Dean was recently engaged to his soulmate, April.  She was the love of his life as he was the love of hers.  Dean was an avid sports fan to the Packers, Bucks, Brewers, and Badgers, always carrying around the sports page wherever he went.  He worked in the food service industry, faithfully serving the people of the Milwaukee area for many years.  Dean had a great sense of humor and loved to listen to music and cook out on the grill.
Dean is preceded in death by his father, Martin Doxtator.
Dean is survived by his mother, Eva Doxtator; his fiancé, April McDaniels; her children, Madisyn, and Chauncy; Dean's children, Damonte and Aiyanna;  his grandchildren, Jayta, Carter, and Lennon; his siblings, Marianne (Tom) Calderon, Boyd (Sally) Doxtator, Clark Doxtator, Monica Doxtator, Terry Doxtator, and Gerald (Tonya) Doxtator; many nieces, nephews, aunts, and uncles; and many life-long friends.
You will be missed, "Dean the Dream".