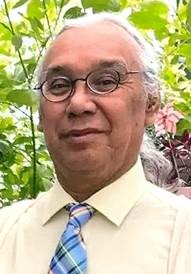 Cleveland "CJ" Doxtater, 71, Allouez, began his spirit walk after Covid 19 on Wednesday November 4, 2020. He was born September 15, 1949 in Tigerton to the late Cleveland and Angeline (Doxtator) Doxtater.
CJ was an unassuming teacher, filled with quiet strength and powerful wisdom. He was a quiet man, who had the gift to listen and heal with his presence and attention. When he spoke, his words were wise and timely. He was in tune like that. He was a loving husband, father, grandpa and friend to many humans and dogs. Those of us, fortunate enough to be in his presence, understood that kindness, compassion, and humility are strongest characteristics for transformation and the true foundation of resilience and wisdom.
CJ was making his way to be one with the creator and all that is. Taking his place in the cosmos. He was a tireless advocate for people in recovery, the elderly, victims of domestic violence and sexual assault, and for MMIWG.
He was instrumental in bringing many advocates of color together across the state. CJ started each session allowing his spirit to fill the room. His compassion, humor, geniuses, and authenticity were infectious, His knowledge was invaluable.
He is survived by his wife Sandra Doxtater, his children; Roxanne E. (Jeremy) Looker, James E. Doxtater, his stepchildren; Heidi (Richard) Blumers – Keith, Jennifer (George) Gabera, Frederick "Fritz" Blumers, CJ is further survived by his grandchildren, Kerry Cloud, Sasha (Dan Cain) Cloud, Jeremy Jr., Shawnee, Ella, Alison, Ryan, Anna, Emily, Madeline, Abigail, Alex, Liam, Seth, and. Great Grandchildren; Bryson, Milly, Aiyana, Atticus, Emrick, Karleigh, Isaiah, Tennison, and Eli. Brothers and Sisters; Barbara Shegonee, Dennis (Kim) Doxtater, William (Laura) Doxtater, Leabeth (J.R.) Doxtater – Chitwood, Ruth Doxtater, Angela (Doug Johnson) Doxtater, Gwendolynn (John) Grunewald.
CJ was preceded in death by his first wife Jean Brisk, his daughter Millie Ullistinine, parents Cleveland and Angeline, and his sister Shirley Tourtillott.
The world is a better for the life, work, and presence of Cleveland "CJ" Doxtater. We mourn his passing and celebrate his uniquely powerful and insightful soul. He gave so many years and so much beauty to this movement. He served as an End Abuse board member, and for the last 15 years as staff. He remains with us in memory, and in the legacy he leaves.