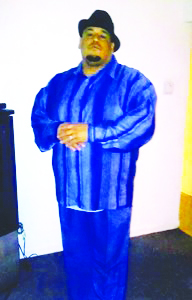 Willie Dan Adams III "Chukie" Wolf Clan haudenosaunee. He was born on October 22, 1974 to Willie and Mary Adams in Sacramento, California. He was raised in Rubidoux, CA as a child and went through elementary school and attended Rubidoux High School where he ended up at Nueva Vista Continuation High School and furthered his education where he received his Associates Degree in business management; as he would say, "plaques on the wall. "He moved to Green Bay, WI in 2001 then met his wife Ahsaun in 2002 and they were married in 2006. They had three beautiful children; he also had an older son from a previous relationship.
Chukie was a family man and all about "family first." His children were his priority. He was a good person at heart that had so much love to give to all he knew. He loved the babies. He always had good words for everyone around him. He loved his music and family functions and everyone loved his hugs.
Willie Dan Adams III departed this earth on October 25, 2020.
He is preceded in death by his father, Willie Dan Adams Jr. and his grandpa, Willie Adams Sr. He leaves behind his beloved family, mother Mary Adams, grandma Jenny Pooh and his wife Ahsaun Adams as well as his four children, two sons and two daughters, Willie Adams IV, Natavia Adams, Shoshonee Adams and Willie J. Adams. He also leaves behind two sisters and one brother: Krystina (Shane Michael) Adams, Mioshi Castorena, Jermaine and Ashley Adams. He also leaves behind his best friend, homie Nate Noyes. Also numerous family members in California, his aunties, uncles and cousins, Adams family, Escamea family and Teller family with a host of nieces and nephews.
A limb has fallen from the family tree. I keep hearing a voice that says grieve not for me. Remember the best times, the laughter, the song, the good life I lived while I was strong. Continue my heritage I am counting on you. Keep smiling and surely the sun will shine through. My mind is at ease. My soul is at rest. Remember all how I truly was blessed. Continue tradition no matter how small go on with your life don't worry about falls. I miss you all dearly so keep up your chin. Until the day comes, we're together again.