Graph courtesy/Oneida Comprehensive Health Division
Hospitalizations and infection rates are spiking in Northeast Wisconsin as Brown and Outagamie Counties are currently among the country's biggest COVID-19 hotspots. As of November 17, 2020, the Oneida Nation has experienced 501 total infections with 34 cases still active, 461 recoveries, and six deaths. Medical experts expect these numbers to climb higher as the holiday season approaches. People are strongly urged to keep their holiday celebrations to in-home family only to help prevent spread.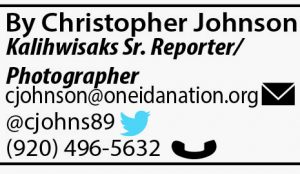 As the novel coronavirus hits the grim milestone of 10 million cases across the United States, according to data compiled by Johns Hopkins University, infection rates continue to increase in nearly every state. Northeast Wisconsin, in particular, is currently one of the major hotspots in the country and with the holiday season fast approaching, many in the medical field believe it's going to get even worse before it gets any better. "This situation is most likely going to get worse with people not following guidance and getting together with family members, and I think it's going to spike again," Oneida Community Health Center's (OCHC) Comprehensive Health Division Director Debbie Danforth said.
The Oneida Nation Reservation, which sits in both Brown and Outagamie Counties, has been hit hard by the COVID-19 pandemic with 501 total infections, with 34 cases still currently active, and six deaths as of November 17, 2020. As a whole, Brown County has experienced more than 20,000 cases and Outagamie County more than 12,000. "I can't say for certain the numbers are devastating in Oneida alone because if you look at the numbers Brown and Outagamie have been among the hardest hit counties in the state," Dr. Ravinder Vir, OCHC Medical Director, said. "If you look at the overall picture, these two counties have been a hotspot within a hotspot. The challenge has been to figure out how to socially distance ourselves because we're not on an island.
"Whatever happens in the state and surrounding jurisdictions directly impacts us," Vir said. "In some ways I think our community has done well in protecting ourselves with the messages we've tried to convey in attempts to keep people safe. Is there more we can do? Absolutely. The challenges faced are the strain of the infection that is so prevalent and widespread because the elders and those with underlying health conditions are considered the most at risk. If it gets to an individual in the family who is low risk, there's always the potential to spread it to the extended family if there's exposure. And that's the message we've been trying to convey about limiting your exposure to individuals by taking precautions like wearing a mask, keeping a safe distance, and frequent hand washing to help reduce that risk of spread."
The majority of cases are happening because of people gathering in groups. "The new studies are showing that 70-80 percent of COVID-19 cases are occurring in clusters," Vir said. "Whether it's watching a Packers game in a large group without precautions, or going to a bar and not wearing a mask while you're consuming alcohol, or gathering with people from outside your household, our message to the community is to try and follow all advised safety measures. If you go to a store, there's a masking mandate, so please wear a mask. There may be others there not wearing one, but you can only control what you do. If I go to a grocery store I'm going to put a mask on to protect myself, and most of us do that, and we're also protecting the others that are in the store.
"If we look at the nations that have done a really good job of controlling COVID-19, we see nations that have 85-90 percent mask usage and it works because everybody is masking," Vir said. "I think this is very much controllable because we have the means. We don't have to shut everything down but we really need to take individual responsibility for following each one of these measures, limit our interactions with people outside of our household members, and restrict our movements to bare essentials like the grocery store, pharmacy, or clinic and not socializing outside of your family. I think we can definitely make a dent in the spread of this virus because it's highly contagious. If we can follow these precautions, they've been proven to work because we're limiting that interaction with people."
While a large majority of viruses "peter out," this strain of coronavirus is hanging on tenaciously. "One simple reason for this is because it's a brand-new virus that humans have not been exposed to," Vir said. "Anybody that is exposed has the potential to get infected or sick. Now, we all get exposed to cold viruses that we've all been exposed to before so the body has an immunity to it. We don't have immunity to this as a human race because we have never been exposed to this virus before."
The current science suggests people who've overcome COVID-19 possess the necessary antibodies to fight the virus and may be immune from reinfection for approximately 90 days. "We're always careful when we say these things because we want people to realize we are learning as we go," Michelle Myers, Oneida Community Public Health Officer, said. "But the data seems to support this right now, and we do see the rare occasion of reinfection. It's rare but it does happen."
Now more than eight months into the global health crisis, many are struggling to maintain their ability to abide by the numerous health recommendations. "People are exhausted of this pandemic," Myers said. "Everybody is sick and tired of talking about it, they're tired of hearing about it, and people aren't listening anymore. So we're getting lax on the things we know we need to do. The challenge is coming up with creative ways of keeping this on the forefront of people's minds every single day about what they do and how they interact in the community. We'll continue to try to make sure the messages get out there in a way that people will still hear them because as Dr. Vir has pointed out we know the solution. We know what to do make this stop."
"I would offer two suggestions," Vir said. "One is that this is just the way our lives are going to be for some time, so let's just accept that putting a mask on when around other people is just the standard of care right now and how we need to live our lives until we have this vaccine. We've been dealing with this public health emergency for over eight months now in Oneida, so we need to accept it universally and keep that awareness level up.
"The second thing I would suggest is for people to understand the upcoming holidays are not your normal holidays," Vir said. "Here's where I really think we can prevent this: people are used to celebrating Thanksgiving with 10, fifteen, or 20 people together and it's a great time because that's what we've always done. I encourage people to be aware that these are not normal times and to try to have the celebrations with just their household. If extended family are present, then they and their extended family are at risk. This virus spreads by breathing, so if that movement can be restricted you'll be helping your household and extended family by reducing that risk of spread as we celebrate the holidays. I think keeping your distance and celebrating in a different way is the ultimate act of love and compassion."
"The biggest challenge ahead of us is that we're very social," Danforth said. "As a community we tend to want to take care of each other and get together. Now more than ever it's critical that people follow the guidance that we've provided and try to avoid having that socialization that we're all accustomed to. Look for different ways to have that celebration. Maybe it's by doing a Teams call or getting on the phone, but it's going to be critical as we approach the holidays that we try to abide by that guidance that's been provided and wear a mask and avoid those crowds."