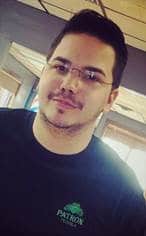 Jayden Jerome Phillips, 24, Green Bay, passed away on October 17, 2020.  He was born in Wichita, Kansas on October 16, 1996 to Sarah Madden and David Phillips.  Jayden graduated from Southwest High School and attended NWTC.  While in the Criminal Justice Law Enforcement program at NWTC, Jayden volunteered to make fleece blankets for families in need and served as a security guard at Lambeau Field during Packers games. 
Jayden enjoyed playing video and board games, bowling and working out, he was a fan of everything Star Wars.
In addition to his parents, Jayden is survived by his sister, Jasmine Phillips and his brothers, Jonathan and Justin Phillips; grandparents Linda Webster, Robert (Nancy) Mommaerts; nephew Jesiah Josephson, aunts, uncles, numerous cousins, relatives and friends.  He was preceded in death by his grandfathers, Thomas Jerome Madden and Randal J. Phillips.