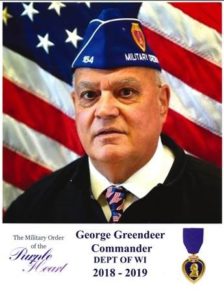 George Greendeer, Caaxšep Horoğocrega (He Looks at Eagles), passed away on Friday, October 16, 2020 at the age of 76. He was born on August 4, 1944 in Chicago, IL. 
It is difficult to find words that capture the depth and extent of the impact George Greendeer has left on the world. To know George is to know a man who was a loving husband, devoted to family, and a tireless worker who was distinctly gifted with incredible business acumen. So much so that as a child, he sold the craftwork of his parents [Fred and Mary Edna] in the streets of Chicago after school. Later, he began his entrepreneurial career before his teens running an incredibly successful archery stand in Wisconsin Dells. With his parents, he expanded the giftshop to the former Trading Post and later evolved into the internationally known Dells Park Indian Village where multiple indigenous cultures and arts were showcased routinely to the delight of thousands of visitors.
George proudly served his country as a fierce and unrelenting warrior on the battlefield loyal to his country and to his brothers in combat. Sgt. George Greendeer of the United States Army served two tours in Vietnam's Mekong Delta parachuting in under gunfire, fighting through ambushes and hand-to-hand combat. George always took his place between imminent danger and the people he loved. Whether friend or foe, George held unconditional respect for warriors and came home to continue his advocacy for the rights of both combat and peacetime Veterans. He was awarded two Purple Hearts, a Bronze Star, and many other medals, accolades, and honors, however, his greatest award was coming home to his family. He later was seated as the Wisconsin Commander for the Military Order of the Purple Heart.
When he returned from Nam, he was welcomed by his family with honor and love. Securing a Bicentennial Grant, George set out to "take the show on the road" bringing the diverse native cultures of song, dance and artistry in caravans performing in malls and expo centers all across the United States. When the tour ended, George moved into RV sales and later cable television where one of his greatest attributes as a business owner and salesperson illuminated the professional standard. He continued to exceed expectations and later was regarded as a unique phenomenon in customer service catching the attention of business leaders everywhere. His business prowess and entrepreneurial spirit extended to the creation of Green Bay Elite Cheer Co. George watched children achieve their dreams through the sport of cheerleading. His loud cheer of "GBE!" will be missed greatly by his cheer family.
He poured his heart into all he did, whether it was planning an event for veterans, taking his family on a road-trip, prepping for a parade, going boating with a cookout to follow, creating a business, scheming ways to get his family all in one place, or simply planning the day…whatever it was, he did it to perfection and he involved people along the way. George made everyone around him feel special, important, and empowered. He was always more concerned about how he made people feel than what he could simply do for them.
His definition of family was broad and inclusive, emphasizing connections with people over blood or biology, and because he was warm and welcoming, his family is tremendously large. George is survived by his wife, Charlene Greendeer; children, Greg (Elizabeth) of Green Bay, Michelle (Lance) Greendeer-Rave of Black River Falls, Jon Jon (Christine) Greendeer of Stevens Point, Samantha (Cory) Skenandore of Madison, Marcus Greendeer of Green Bay, and Cherokee Greendeer of Oneida; grandchildren, Logan, Sophia, Karena, Leonard, Silas Cody, Memphis, Silas, Oliver, Leila, George, Brittany, Lorenzo, Rio, Beth, Kandace Faye, Lisa, Alexandria, Gavin, and Jordison, along with one great-grandchild, Scarlett; uncles, aunts, cousins, nephews, and nieces, Wendell (Thelma) McLester, Pearl (Schuyler) McLester, Judy (Dan) Cornelius-Hawk, Winnifred Thomas, Pearl "Tiny" (Kenneth) Webster, Janice McLester, Donnie (Lori) McLester, and Joan (Dave) Davis McLester; along with James, Wallace "Rock", George "Hushi", Bill, and all of his Greendeer relatives; and close family, Mona Ring (Mona, Felicia), Marlene Smart (Jacob, Rachel, Hannah), Ramona (Ralph) Keys, Ray & Debra Charles (Ryan, Trent, Heather, Krista, Brandon, and Drew).
There are folks George recognized as family, including Charles "Chucky" Miner, Jesse Blackdeer, Verna Blackdeer, Jordan (Lance) Treankler, Enrique Fiscal, Sr., Irlanda Fiscal, Enrique Fiscal, Jr., Nadhidaly Scott, Luis Fiscal, Raysha Nohely Yasvi Begenjova, Susan Power & Mona Susan Power, Donnie Rine, Sonny Friedmann, John Lochner, Kerry Metoxen, Andrew Thundercloud, and Michael Day. 
In his final year, surviving a stroke and fighting cancer, he was cared for by medical experts at ThedaCare, staff at Anna John Nursing Home, and St. Mary's Hospital. George was happiest when surrounded by the people he loved – when all his family was around, his world lit up. In his last days, he was in his home, exactly where he wanted to be, cared for by his wife, Charlene, daughter, Cherokee, and the Fiscal family. 
He was preceded in death by his father, mother, and sister Karen Lee.