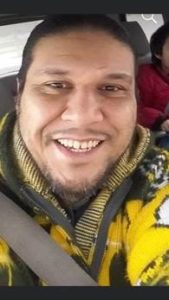 Oneida – Elliot David Cooper, 42, started his journey to the Creator's land Monday, October 5, 2020.  He was born January 24, 1978 and is the son of Beverly Melchert and the late George L. Cooper.
Elliot was a man full of life and artistic talent, he enjoyed creating beadwork, drawing and music.  He also enjoyed fishing, cooking and being outdoors with his children and of course rooting for his favorite team, the Green Bay Packers.
Elliot's family takes comfort in knowing he has been greeted by his father George, his sister Sheavonne Cooper and his grandparents Lillian Cooper and Adeline Johnson.
Elliot is survived by his children: Rhiannon R Cooper, Cheyenne N Cooper, Savannah R Cooper, MaKavee J Cooper, Layla S Cooper and Shyloh L Rodriguez-Cooper.  He is further survived by his siblings; Tanya L Cooper, Heather (Tadd) Willette, Beverly A Alexander, George L Cooper, Emmanuel Jennings and his mother Beverly.  Elliot is further survived by his special cousins, friends, and all those who came to know him.
Friends and family are invited to say farewell on Saturday, October 17, 2020 from 12:00pm – 2:00pm at the residence of Brandon and Amy Cooper, N8218 Cooper Rd. Oneida.  A private ceremony for the immediate family will follow.  Please remember to practice social distancing and wear a mask.
The family extends a heartfelt thank you to all those who have sent warm thoughts, offered prayers, stayed by the fire, spoke words of comfort and provided wonderful meals and other sustenance.  The support received is greatly appreciated by the family.