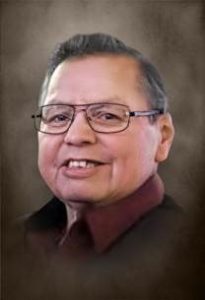 Eugene "Geno" Edward Danforth, 71, Oneida, fought hard against cancer and began his journey to Heaven on October 10, 2020 at 3:33AM. He was born January 21, 1949 to the late Pete and Sabie Danforth. On June 29, 1968 he was united in marriage to Patricia Metoxen at Church of the Holy Apostles, Oneida. Daddy was a loving and caring man who loved sports. He often shared stories about old sports heroes from the 60's, 70's and on, and the plays they made. Hank Aaron was just one of many, but this is the reason Geno's jersey was #44. Geno's favorite teams were the Miami Dolphins, Packers, Bucks, Brewers, Milwaukee Braves, Badgers, and the Warriors. When he was a teen, he was offered the opportunity of trying out for the LA Dodgers, but did not have the money to get there. Dad shared that it was never about winning or losing the game, he went to just play the game. Geno just loved playing. He said, "It wasn't the team that lost the game or won, it was you!" You missed the ball, you struck out, so you need to practice more. He taught himself to be a good hitter by hitting stones with a stick. He said, "If you are good at hitting small stones with a stick, you should be able to hit a big ball with a bat." Geno was a champion and will always be our champion.
Geno worked for Schreiber Foods for many years and served on Oneida Trust and Enrollment Committee while working at Oneida Elderly Services after his retirement.
Geno loved shooting pool and looked forward to the many tournaments at the White Eagle. He enjoyed trips to the casinos in Wisconsin, and played on many basketball teams, though his biggest love was baseball. At age 71, just two weeks ago, he hit a double while playing. He spent much of his time watching old westerns, he would say, "Cowboy and Indian shows, and Lone Ranger and Tonto." Geno loved going to movies with his family and was always excited to get to a Brewers game. His favorite singer was Elvis, though he never saw the King of Rock n Roll in concert, we know he is watching him now.
Eugene is survived by his loving wife of 52 years Patricia, daughter Lori (Lonnie) Thomas, daughter Susan (fiancé John) Danforth, and Son Marques Sr. (Kateri)Danforth.  Grandchildren: Tyson, Tony Jr. "T.J.", Mataya, Marques Jr., and Conan. Great grandchildren; Allen "A.J.", Maci, Kaino Geno, and Zayden. His sisters; Mary Ann Kruckeberg, and Patsy (Harvey) Skenandore. Sisters-in-law; Beverly, Sandra, Marilyn, and Dorothy.
He was preceded in death by his parents; Pete and Sabie, two sisters, six brothers, and his granddaughter Tasha Marie Ann who will welcome her Grandpa with open arms.
A private service for Geno was held at Ryan Funeral Home, De Pere with Vicar Rodger Patience officiating burial in Holy Apostles Cemetery.
Thanks to St. Mary, St. Vincent, Froedtert Hospitals, as well as staff and doctors of the Cancer Team, and Unity Hospice. Special thanks to family and nieces for being here to help us with Daddy and providing us with support care and comfort.
We Love You, and will miss Daddy dearly.