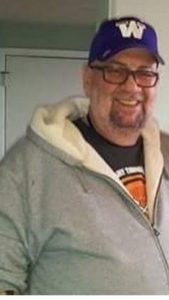 Randy Dural Wilbur walked-on suddenly on Tuesday, September 15, 2020, at Providence St. Joseph Hospital in Chewelah, Washington. He was born to Jed D. and Edith L. (Long) Wilbur on August 14, 1956, in Chicago, Illinois. He was an enrolled member of the Oneida Nation of Wisconsin and a Turtle Clan member. As a toddler, Randy and his family relocated to Washington State where he grew up and graduated from Mountlake Terrace Senior High School. Although far from his heritage homeland, his Mother and Father never let their family forget their Native culture as evidenced by Randy's turtle collection in his home.
In high school, Randy loved swimming and tennis but eventually found his calling in cooking. He worked in many foodservice capacities before following in his father's, uncle, and brother's footsteps and joined the International Longshore and Warehouse Union-Local Number 19 where he had a career on the docks stevedoring ships. He was an avid worker and union member and he loved his fellow dock workers. Randy truly loved his children and was passionate about them and anything barbeque and was always at ease when he was entertaining family or celebrating with his friends. Although he displayed a rough exterior, he was a kind soul and always felt compelled to give a helping hand to those in need. He will be most remembered for his love of his children and his compassion for those requiring help.
Randy was a devoted University of Washington football fan where he enjoyed attending Saturday games. He was also a life-long San Francisco 49ers football team fan and even when Seattle was offered a franchise team Randy stuck by his beloved 49er team. He looked forward to watching them play and boasted when they won.
Randy is survived by his son Jeffery G. Wilbur (Seattle) and his step-daughter Mary Deseo and her son (Kent), older brother Thomas E. Wilbur (Green Bay), younger sisters Genevieve L. Hawkins (Colville) and Katherine A. Witters (Puyallup). His Aunts Mildred Lamphear (Milwaukee) and Robin Emmerton (Oneida) and Uncles Parnell Wilber (Puyallup) and Orlin Wilber (Oneida), brother-in-law's, several nieces and nephews, great-nieces and nephews and many cousins and second cousins. He was preceded in death by his parents, Jed and Edith Wilbur, and his younger brother, Gary W. Wilbur. A memorial service to remember and celebrate Randy's life will be held at noon on Saturday, October 24th at the gathering hall/warehouse directly behind the International Longshore and Warehouse Union-Local 19 building located at 3440 E Marginal Way S, Seattle, WA 98134. In lieu of remembrances his family requests donations be made to the American Cancer Society in Randy's name.