Oneida Nation photo
Newly elected Councilwoman Marie Summers brings years of tribal business experience to the Oneida Business Committee. Although she hails from a human resources background, Summers is currently pursuing her master's degree in Indigenous Law Legal Studies.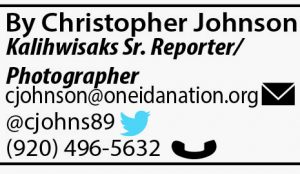 Across the years Oneida Nation citizen and newly elected Oneida Business Committee (OBC) Councilwoman Marie Summers has constantly strived to improve and educate herself both academically and in her career decisions. "I graduated from Milwaukee Area Technical College with my GED and my associate degree in Management Development," Summers said. "From there I graduated from Concordia University with my degree in Business Administration and I'm currently pursuing a master's degree in Indigenous Law Legal Studies."
Her employment career has also brought her a wealth of knowledge here in Oneida and across Indian Country. "I started out at the old Oneida Health Center, worked as a blackjack dealer at the casino, and eventually landed in Human Resources," Summers said. "From that point forward my career was human resources (HR) driven."
The global financial crisis of 2008 solidified Summers' career move. "I took the severance package from Oneida and pursued management positions with other tribes in other states," Summers said. "I became the HR Director for a tribe in California and helped them open a new casino. That was an exciting career move for me and I gained a lot of experience. From there I took on other HR and HR Director roles with the Navajo in Gallup, New Mexico, for the Quinault Indian Nation in Washington State, and for the Saginaw Chippewa in Michigan.
"My career kept growing and growing," Summers said. "These were big casinos with big workforces in their tribes and I kept gaining career momentum as I stepped into different positions while working with these Nations, so this has been the biggest drive of my career."
While the years spent working with and living in other native communities had a strong impact in her professional life, they were slowly replaced with a growing desire to return home. "I had finally decided to walk away from the human resources industry and return home to Oneida," Summers said. "I began enrolling in law courses and started pursuing my master's degree. While it's a master's degree and not the full Juris degree, the real benefit of it is a lot of the courses I've taken surround Federal Indian Law. And all of this revolves around what I'm doing on the OBC right now.
The academic rigors of law courses opened other areas of interest for Summers while she worked as a loan officer with Comprehensive Housing and as a trial clerk on the Oneida Judiciary. "I decided to put my name in the running for OBC because I'm open to new opportunities and ideas," Summers said. "I had no idea where it was going to go or what impact the current pandemic would have.  But my campaign started gaining momentum and I began thinking I might have a chance here. By the end of it I was exhausted but I made it. I was very excited that I was chosen by the people because I feel the skill sets and experiences I gained over the years, along with the understanding of businesses and the gaming industry, will help me in this government role."
As she acclimates to her new role serving the Oneida Nation, one area of interest she would like to familiarize herself with is employment law. "I've learned while working in Indian Country that having an employment law in place is something that would safeguard us if we ever had to fight an employment issue with the federal government," Summers said. "I know past councils have worked diligently on an employment law and it was introduced in past terms, but I want to look at that again and possibly introduce it again with my approach and understanding of it.
"I'd like to share that with our Nation's citizens and introduce a small piece of it instead of throwing the overwhelming entirety of it at them," Summers said. "I don't know how far that would go but I'm willing to take that on for the next three years because I think it's important to learn about our sovereignty and how it's under attack in different ways. For instance the State of Wisconsin has a very restrictive say in our Class III gaming, so when they're looking at legislation we need to be prepared. I feel an employment law would be very valuable to the tribe and would help us argue against any other law if we were faced with it.
"Right now all we have is an employment policy and procedure book," Summers said. "I believe the whole point was to establish the law but separate the policy and procedure part of it. So this is one of the things I want to work with the Legislative Operating Committee (LOC) on because I know they had also been working in it, but it's such a long process for our citizens to embrace so we just have to keep trying. I'm hoping this will be one of my initiatives in my term."
Housing is another issue she would like to see worked on, according to Summers. "I'd like to work with our General Manager (GM) with housing," Summers said. "I'm going to be looking at and hoping to make some changes to the laws that govern our loan area because the COVID-19 pandemic has shown we are short on housing. With my experience as a loan officer I'd like to take a look at some of these things with the GM and see if we can make some changes to them with Comprehensive Housing, or just housing in general because it needs to be addressed."
Support is something she's always had and she's grateful to her family, friends, and community. "There's always been a lot of support for me," Summers said. "People have always encouraged me and a lot of them helped me through my campaign with things like distributing door hangers, campaign signs, and keeping up with my Facebook page. I had an advisor who showed me how to maneuver in the campaign world because I'm a human resources professional, not a politician by nature, but I'm learning that role and I'm learning very quickly what that means. But I have advisors, friends, professional friends, and others who are helping guide me through everything when I need it."
Summers, who is currently engaged to Orville (OJ) Cornelius, is also grateful for his support through what has turned out to be a very eventful 2020. "OJ proposed to me and it surprised me because I wasn't expecting it," Summers said. "I was so distracted with my campaign and starting this role so there has been a lot going on in my world. OJ surprised me and I decided I was ready for this because he's been such a huge support to me and I love him a lot."
She is the mother of three adult children and two teenagers, and she has six grandchildren. "Me being a politician is new for them," Summers said. "We're all adjusting and they're very proud. We're all just hanging together and trying to understand what is happening now that we have a new environment for our family."
As she embarks on her latest journey as an Oneida Nation Councilwoman, Summers has a few thoughts to share with the community. "I think our new BC has some very capable individuals in these positions and one thing I really pride myself on is the fact that I come from the Oneida Nation," Summers said. "With all the experiences I've had with other nations, there's no other place I'd rather be than right here in Oneida. We know how to get things done, and in a crisis we know how to make things work, and I believe 100 percent that we're going to come out the other end of this recovered and with our people back to work. I'm very excited and I hope our people keep the fire strong because we're going to get through this. It's just a matter of time."