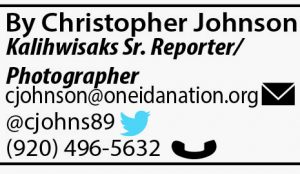 Oneida Nation students registered for college courses for the Fall 2020 semester may now be eligible for financial aid through the COVID-19 Pandemic College Assistance Program to help cover the costs of tuition, books, room and board, and other expenses. Qualifications include being affected by COVID-19 through a decrease in funding, such as the Higher Education Grant, student or family unemployment, or job underemployment.
"Unlike the Higher Education funding there is no progression required for this funding, so for example somebody who may hold a higher degree can receive this funding to obtain a lower degree if it helps make them more marketable as an employee," Jessica Last, Higher Education Pandemic Relief Counselor, said. "Also, students do not need to be current Oneida Higher Ed students but must be enrolled Oneida Nation members, so they may be ineligible with the Higher Education Department and still be eligible for this funding. This is actually a great opportunity for students who are suspended or currently ineligible to receive higher education funding."
This funding is only able to cover Fall Semester tuition which is defined as August 12 through December 2020. Courses beginning prior to and after those dates will be reviewed and may be prorated to ensure CARES ACT regulations are being followed. Students who have already taken out a loan or paid their tuition by other means should work with their Financial Aid Office to find out if these funds might replace those areas if helpful to the student's overall funding. This program can't fund past loans, previous terms, or otherwise already ended courses, Last said.
The application for this program can be found on the Oneida Nation Higher Education website, however it is a separate initiative from the Higher Education grant and is not overseen by Oneida's Higher Education Department. "This is a separate program, therefore any questions pertaining to this process should be directed to the COVID-19 Call Center at (920) 869-4481," Last said. "The program can fund up to $20,000 for this Fall Semester and it's based on the requested amount. However, if a student is currently receiving financial aid from their school and they don't stick with their guidelines this could drastically impact their current of future financial aid. Therefore we highly encourage students to work with their Financial Aid Office to ensure the amount they're requesting fits within the parameters of their financial aid."
Working with their Financial Aid Office is also recommended because applying for the program is a one-shot deal. "There needs to be time and thought put into this application because once it's submitted a student can't go back and say they forgot to include something, or they shouldn't have included something. Students will also be required to submit receipts by December 15 to show the funds were used accordingly because they could be subject to an audit by either the Nation or the IRS. The Nation could be subjected to an audit as well based on what the student is turning in, so it's imperative they turn those receipts in to us by December 15, 2020."
There is also an educational computer component available to students in addition to the college assistance portion of the program. "Enrolled students who have technology or computer needs resulting from the pandemic can also receive assistance to purchase a new computer or be reimbursed for a computer purchased for the fall semester," Last said. "There's also a very important informational section on the application for both the college assistance and the computer assistance. Again I really encourage students to read that section because it contains some very important for them."
There are also several tutorial videos available for viewing on the application page that will help students navigate the process and help answer questions.
Once approved for the financial assistance the student's tuition funding will be sent directly to their school while the student expense portion will be sent directly to the student. "It's the student's responsibility to ensure those parts of it are paid accordingly and that the receipts are given back to us once those are paid," Last said. "Students seeking to apply for the educational computer component, which can go up to $1,000, can request either a payment advance or a reimbursement. If the request is for a payment advance, and the receipts or unused portions of those funds are not turned back in to us, the Nation may take legal action to seek reimbursement."
Applications for these programs must be received by Friday, October 16, 2020.