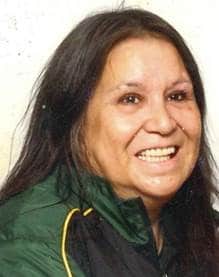 Cheryl A. Cornelius "Grub the Great" began her journey to the Spirit World on August 31, 2020 with her loved ones at her side. Cheryl was born August 5, 1955 to the late Kenneth Guy Sr. and Elaine Sylvia (Webster) Cornelius. In 1977 she met the love of her life Robert Biddle, and they were together for 40 years. They had three children: Travis Guy, Daryl Lee, and Sylvia Ann.
Cheryl had a sense of humor and enjoyed making people laugh. Cheryl's had a kind heart and would do whatever she could to help her friends.
She fought an aggressive battle with cancer and succumbed to complications.
Cheryl enjoyed her family and spending time with her grandchildren.
Cheryl was one of the first ten Slot Techs to attend the Slot Tech Training for the Oneida Casino, in Las Vegas, Nevada. She also attended Cosmetology School in Milwaukee, WI. where she met Robert and they lived there for several years before they moved to Oneida and started their family.
She was employed by the Oneida Casino for several years. She then became a Home Maker and raised her family.
Those loved ones greeting her in The Spirit World are her mother and father, her siblings, Harvey, Karen, Geraldine, Darlene, and Annette, as well as Sylvia, Pamela, and an infant brother. Her Parental Grandparents: Guy and Mercie Cornelius, her Maternal Grandparents: Harvey and Phoebe (Elm) Webster. Her children; Travis and Sylvia, and the Love of her life Robert Biddle.
She is survived by her son Daryl Lee Cornelius, her son-in-law; Rogelio Avles DeLaCruz, her siblings; Kenneth G. (Darlene) Cornelius, Pat Moore, Barbara J. Cornelius Jr., Alan B. (Elaine) Cornelius, and grandchildren; Kelis, Daryl Jr., Travis Lee, Kylee, Elaine, Stephanie, and Chloe.
The family would like to thank the Doctors and nurses at Bellin Hospital for their care and compassion while taking care of Cheryl during her last days.
Visitation will take place Friday September 4, 2020 after 10:00AM at Ryan Funeral Home, De Pere, until time of service at 12:00PM.