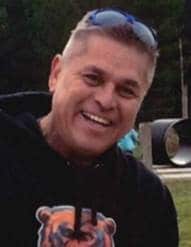 Michael D. Guyette, 54, Oneida, was tragically taken from us due to a swimming accident on Saturday August 15, 2020. He was born March 6, 1966 to Alice (Grignon) and the late Ronald Guyette.

In 1986 he moved with his family back to the Green Bay area from Chicago.
Michael was a proud Union Carpenter with Local 1147 and was involved in many projects throughout the area.

He was very outgoing, loved being around people and excelled at sports, especially Football, where he played on a semi – Pro team in Chicago. Michael also enjoyed fishing and was an avid Chicago Bears fan. It was the time he spent with his son and grandchildren though that meant the most to him.

He is survived by his son Michael R. (Madia) Guyette, grandchildren; Michael A., Marina, Malanie, and Mason.

Michael is further survived by his mother Alice (Adrian Barrett) Guyette, two sisters; Tracy (Tim) King, Crystal (Manuel) Algarian, and two nephews and a niece; Richie, Antonio, and Alicia. The love of his life Stacey Metoxen also survived him.

He was preceded in death by his Father Ronald Guyette, grandmother Rose Guyette and his uncle Jack Guyette.

Friends may visit after 2:00PM Friday August 21, 2020 at Ryan Funeral Home 305 N. Tenth Street, De Pere, until time of service at 5:00PM.
Special thanks to Pasquinell and Anita for opening up your home and keeping the fire for the family.