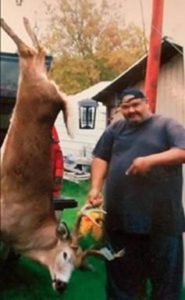 Daniel L. "Dan" Melchert, age 52, of Oneida, passed away peacefully at his home, Wednesday, July 29, 2020, surrounded by his loving family and friends. He was born December 8, 1967 in Oneida, WI, son of the late Harvey Melchert Sr. and Ruth (Metoxen) Melchert. He was a graduate of Pulaski High School.
Dan was a custodian at the Oneida Casino for many years. He was an avid outdoorsman and loved hunting and fishing. He was a talented repairman and loved to tinker with lawnmowers and other "junk." He also enjoyed watching wrestling and playing video games. Dan was a kind and loveable man known as a "gentle giant." His memory will live on through the many family and friends he leaves behind. Dan was very close to his mother and took care of her for many years.
Daniel is survived by his amazing mother, Ruth Melchert; 7 siblings: Patsy (John "Jeb") Beaulieu, Harvey (Sue) Melchert Jr., Kitty Melchert, Bonnie (Kevin ) Tassoul, Tony Melchert, Adam (Karen) Melchert and Alvin (Amanda) Melchert and a brother-in-law, Edgar Blackbull Sr. He is further survived by numerous nieces, nephews, other relatives and many friends.
He was preceded in death by his father, Harvey Melchert Sr., 4 siblings: Donald (Effie) Melchert, Terry Melchert, Rosa Blackbull and Brenda Melchert.
Visitation will be held at Assembly of God Church (N7321 Olson Rd., Oneida, WI), Saturday, August 1, 2020 from 11AM to 1PM. A funeral service will follow at 1PM. Please be prepared to wear a facial covering to ensure the health and safety of all in attendance.
Dan's family would like to extend their heartfelt gratitude to the staff at Unity Hospice for their care and compassion as well as Jeff "Ski" Kurowski for being such a great friend during his final months.
Tetwatatnolukhwake (we all love one another)