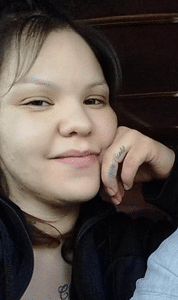 Rhys Lorraine Little Bull, 29, of Green Bay, WI. passed away unexpectedly on Saturday, July 18, 2020. She was born on July 2, 1991 in Green Bay to Jamie Pocan and Georgia Powless.
Rhys married her husband Charles Little Bull Jr. in 2016. Rhys raised her four boys with all of the love she had. She was a proud and loving mother.
Rhys also took pride in her Native American culture and took part in traditional ceremonies.
She was a natural caretaker. She loved helping others and being there for them when needed. Rhys was always willing to go above and beyond to create happiness for others.
Rhys is survived by her parents, Jamie Pocan and Georgia Powless; husband Charles Little Bull Jr.; children: Wiwokiya, Aaliyah, Misun, baby Charles, and Mahkpiya; three sisters: Cheyenne Powless, Jacqueline Pocan and Autumn Rain Pocan; two brothers: Geronimo Pocan and Quanah (Marissa) Pocan; materal grandmother Dorothy Ninham. She is also survived by many nieces, nephews, aunts, uncles, cousin, and friends.
Rhys is preceded in death by paternal grandparents James Pocan and Zane Peacock; maternal grandfather Herbert Powless; three uncles: Tony Powless, Charles Pocan and William Pocan; two aunts: Rhys Pocan and Julie Peacock; mother-in-law and father-in-law: Charles and Verile Little Bull and brother-in-law, Dacian Danforth.
Visitation for Rhys will be held on Monday, July 27, 2020 at Newcomer- Green Bay Chapel (340 S. Monroe Ave., Green Bay, WI 54301) from 4:00pm – 7:00pm. Please be advised that the family will require you to wear a mask for the visitation. Burial for Rhys will be held at the Oneida Sacred Burial Grounds on Tuesday, July 28, 2020 at 11:00am. The family also ask that you wear a mask to attend the burial.