Photo courtesy D.King of Images
Siblings Dennis King (left) and Shawn Skenandore (right) hit the lake for some fishing in early June, only weeks after Skenandore was released from intensive care following a near-deadly experience with COVID-19.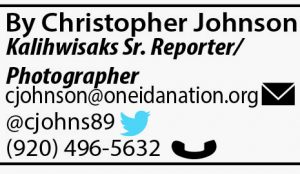 More than a month after his life-threatening encounter with COVID-19, Oneida Nation citizen Shawn Skenandore continues down his miraculous road to recovery despite feeling some lingering effects from the virus. Skenandore spent 17 days on a ventilator in a medically induced coma at HSHS St. Mary's Hospital in Green Bay before coming out of it on May 10.
Just how Skenandore contracted the illness remains a mystery. "We honestly have no idea how I got it," Skenandore said. "I'm the only one in my household and at work that contracted it. The first week in April was when I noticed I wasn't feeling the greatest, so I went into St. Vincent Hospital to get checked. I was being monitored after that, but after 10 days my oxygen level was so low they admitted me. It was weird because I didn't have any of the symptoms they've been talking about like a fever or a cough. The only thing that made me go in was I was constantly hot and then cold. Three days after that I was on a ventilator at St. Mary's fighting for my life."
Skenandore's condition deteriorated so rapidly that his brother, Dennis King, and his girlfriend, Brandy John, were contacted and his last rites were administered. "I knew something was seriously wrong prior to being put on the ventilator because Brandy called me and she was crying, which she doesn't do," Skenandore said. "I asked her what was wrong and she just said, 'Promise me you'll fight.' I said, 'Who am I fighting?' I obviously didn't know just how sick I really was.
"They had apparently discussed life support and she said if my organs were good they weren't going to pull the plug on me," Skenandore said. "I kept fighting and through the community's prayers and family's support I pulled through it. I have no idea what was said but Brandy would Facetime me four times a day and the nurses would put the phone by me. She said she didn't want me to feel like I was alone. It was amazing to hear how my family and the community pulled together to support me. It's so heartwarming to know how much you are loved."
And then on Sunday, May 10, Skenandore's family experienced what can only be described as a Mother's Day miracle. "Apparently I pulled (the ventilator tubes) out," Skenandore said. "I don't remember it but somehow I broke a three-inch strap off my arm and pulled everything out. All I remember is a few days after Mother's Day I was sitting in my bed looking up at everybody and smiling."
He was taken out of the Intensive Care Unit, and Skenandore was released from the hospital later in May. Skenandore continues to fight through some lingering issues from the virus as he participates in physical therapy in an effort to return to 100 percent. "Now I'm just trying to rebuild myself," Skenandore said. "I lost over 50 pounds and, not that I was a big muscle man or anything, all my muscle mass. I've only been out for a month and I'm only able to walk a few blocks without getting winded, so I'm still feeling this.
"Sometimes it messes with me emotionally," Skenandore said. "Sometimes I'll have nightmares of not ever waking up and seeing my family again, so at times I'm scared to go to sleep. But I've also been working with the Health Center and Prevea Health in physical therapy three times a week to build myself back up. I've been so weak that I have trouble opening a water bottle, and one of the harder things about this is knowing the things I used to be able to do is now a struggle. Just getting out of a car is a struggle, I get winded just tying my shoes, and it gets frustrating feeling this way."
But despite the challenges and the amount of time it's taking to put this life-changing event behind him, he's grateful to have these feelings knowing he's alive. "I really do feel amazing," Skenandore said. "I always feel like I have to do something……like fishing. Everybody who knows me knows I love my fishing. I could go from sunup to sundown with my brother and friends but now I can only fish for about an hour and then have to relax for another hour or two. It does get aggravating and frustrating at times, but I'm trying to move forward with my life and not let this define who I'm going to be."
Skenandore's road to recovery looks brighter by the day as he pushes his body and mind, but he's also keenly aware that a second COVID-19 infection could well be his last. "The doctors told us I will die," Skenandore said. "My lungs went through an amazing fight but they can't do that again. When I pulled through it, the doctor said that if I had pulled the ventilator tubes out of me any sooner than I did, we'd be at my funeral. It's just scary and amazing to hear the doctors tell me just how bad I was because I didn't feel that sick.
"I need to thank my girl Brandy John with all my heart for everything she's done through this whole ordeal and staying strong for our family," Skenandore said. "I also can't thank my family and community enough for all the love and support they've given. This was an unfortunate thing that brought my family closer together and it's been a learning lesson for everybody."
He hopes to return to work in October or November, but until then Skenandore plans on enjoying each day to the fullest. "Every day now has been a positive day for me," Skenandore said. "I've been personally doing more and more by myself, which I should, but I also still have that positive family support that pushes me and won't let me fail. This whole experience has given me a whole new perspective on life, I've been blessed with another granddaughter, and I get a little more time with my family. And the cool thing is I get to say, 'I love you,' to the ones that I didn't get to say that to.