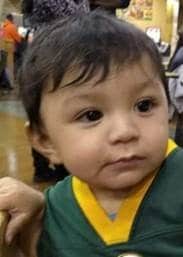 Ethan James Troche, age 2, of Pound, passed away as the result of a tragic accident on June 27, 2020. The son of Jose Manuel Troche-Nuñez and Becky Denny was born on February 6, 2018.
He was a very outgoing, smart little boy. He was adventurous and loved to be around other people.
Ethan is survived by his parents, Jose and Becky; siblings Aaliyah, Arianna and Robert; grandmother Debbie; uncle Rudy, aunt Cindy and many other extended family members.
He was preceded in death by his grandpa Robert, great-grandparents Richard Johnson and Donald and Barbara Denny; as well as great aunt Janet Mickel.
Private services were held. In lieu of flowers, a memorial fund will be established for Ethan. Ryan Funeral Home, De Pere is assisting the family. Please visit www.ryanfh.com to extend online condolences.