Photo courtesy Nate Wisneski
OCHC Comprehensive Health Director Ravinder Vir, Oneida Nation Chairman Tehassi Hill, IHS Director Admiral Michael Weahkee, HHS Secretary Alex Azar, and OCHC Comprehensive Health Operations Director Debra Danforth share a brief conversation during a visit to the OCHC Wednesday, June 24.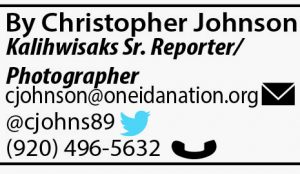 U.S. Department of Health and Human Services Secretary Alex Azar, along with Indian Health Services (IHS) Director Admiral Michael Weahkee, visited the Oneida Community Health Center (OCHC) Wednesday, June 24, to show their support for the reopening of health care facilities across Indian Country.
"The Oneida Nation is a leader with this incredible health center that I was able to tour and meet with the leadership," Azar said. "We are very focused on native population health care. The Native American population is definitely suffering a disproportionate impact from COVID-19, so I wanted to meet with the leadership here to discuss their own experiences with that."
Getting the OCHC up and running to speed, as well as making the community feel safe about visiting the facility, were issues discussed with the OCHC Administration and Oneida Business Committee (OBC). "We want people to feel safe in terms of getting their needed cancer screenings, colonoscopies, and mammograms, which are all down by 90 percent in Brown County. President Trump enabled Telehealth for the first time ever and the tribe has really taken advantage of that. But dental care, ophthalmology, and other key areas of preventative care require people to come in and be seen."
Getting a feel for the day-to-day operations of the OCHC and meeting with the tribe's leadership was a first for Azar. "There's nothing like touching and feeling and seeing first-hand how an operation is running," Azar said. "This health center is fantastic and the Nation should be extremely proud of what they've built here. I've not seen something quite like this before."
Secretary Azar expressed his desire to help with improving Native health care. "I would like this community to know how dedicated President Trump, myself, and Admiral Weahkee are to improving the state of Native health care through the IHS as well as through self-determination and self-governance like the Oneida Nation has," Azar said. "We've set aside $500 million from the CARES Act Provider Relief Fund which the OCHC has been a beneficiary of for Indian health service and tribal health care facilities.
"We've also put out $750 million for the support of tribal testing and we've just announced President Trump is giving the Oneida Nation a $400,000 grant from the Centers for Disease Control (CDC)," Azar said. "Oneida has already been an innovator for drive-through testing, and in speaking with tribal leadership it sounds like some of that money will be used to build a more permanent facility in light of colder weather for more climate protection."
Visiting the Oneida Nation for the first time was an eye-opening experience for Azar. "I've learned about the benefits of self-governance and I got to see what an empowered Nation can do," Azar said. "I learned how proactive the team here is with the nursing home, because we've seen 42 percent of the nationwide COVID-19 fatalities come from nursing homes. These are our most vulnerable individuals. I also heard it was quite difficult culturally to shut down the communal dining for seniors and they had to move to delivering those meals.
"But I told them 'You've saved lives,'" Azar said. "The most at-risk people for serious complications or death are those over 80, or those over 65 who suffer from hypertension, diabetes, renal failure, chronic lung disease, and cancer. So by protecting the residents of the nursing home they did a really great service for the Nation.
When asked about the possibility of a second wave or surge in COVID-19 cases later in the year, Azar made clear there are preparations underway at the national level. "We have a very clear approach to that," Azar said. "We don't know if there's going to be a 'second wave,' and I tend not to use that terminology because we deal with what we're facing in terms of epidemiology.
"As we think about the fall we'll be looking to see if there is a surge in cases, fatalities, or hospitalizations," Azar said. "We're seeing surges in certain states and counties, and some of that is indeed increased testing, but we're working to get to the bottom of that.
Azar discussed a six-part strategy being implemented to deal with any potential COVID-19 resurgences. "We now have the tools to execute on this," Azar said. "The first is surveillance just as the Nation is doing with your nursing home. The second is testing of all who may display symptoms. The third step is containment. Anybody positive should be isolated and treated as well as any of their contacts so that they're also tested, isolated, and treated.
"The fourth step is health system capacity and supplies," Azar said. "Our health system must have the resiliency, which was our core objective in January, to make sure we flatten the curve of disease to keep it within our capacity. As our knowledge of this disease increases, we also had to be sure we had the therapeutic tools to treat this. 
"The fifth step is the therapeutics," Azar said. "Remdesivir is now available, steroids, and we also have convalescent plasma. There have been cases here in the Oneida Nation, so we really need those people who have tested positive to donate their plasma. That plasma can save somebody else's life. Essentially we'll take that plasma and give it to somebody in the early stages of COVID-19. It acts as a super boost of antibodies. You'll be giving that person's immune system your antibodies to fight the disease."
The sixth and final step will be vaccines which are just around the corner. "By this fall we hope to have tens of millions of vaccines and hundreds of millions of vaccines by early next year," Azar said. "So that's the armament we have now to deal with any further surges in cases and we're very well equipped now. We hope that doesn't occur, but we are prepared for that."