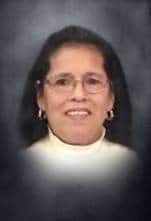 Patsy Cornelius – Kofler, 66, passed away June 24, 2020 at home surrounded by her family and friends. 
Patsy was born to Calvin L and Arlene M Cornelius on December 30, 1953
She is survived by her husband of 17 years Randy Kofler and her five children, Julie (Gary)
Fermanich, Jenye (TJ) Moore, Stephanie (Rick) Prevost, Kurt Baird and Russell (Myone) Baird, and stepdaughter Tara Koefler.
She was blessed with eleven grandchildren, Jake, Ashley, Nick, Alex, Bailey, Tewontake
Yena,Yanko (Daisy), Raylon, Rylee, Rahnee, Royce, step grandchildren Kayla and Brandon. and three great grandchildren, two Emma's from each side of family and Nyle.
Patsy is further survived by her siblings: Mary Metoxen, Brenda Danforth, Calvin Cornelius,
Randy Cornelius, Maury (Michele) Cornelius and Marlene (Erv) John and many, many nieces
nephews, great nieces,and great nephews.
She is preceded in death by her parents, brother Robert W. Cornelius and sister Bettylou Stevens, and her stepson Brian Kofler.
Special thanks to her friend Judy Metoxen-Sprangers who helped care for Patsy in her final days at home.
A celebration of life will take place at a future date. In lieu of flowers a memorial fund will be established.
Ryan Funeral Home is assisting the family.