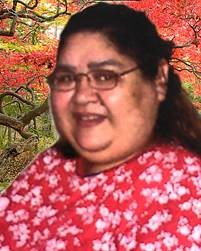 Brenda Lee Melchert, age 60, passed away on Monday, June 22, 2020. The daughter of Harvey and Ruth (Metoxen) Melchert was born August 3, 1959, and was a 1977 graduate of Pulaski High School. She worked at Aspiro where she made hammocks for many years. Brenda's greatest passion was spending time with her family, especially her grandchildren. She loved her cat, Pepper, and Diet Mountain Dew. Brenda spent her last day surrounded by family and friends enjoying fireworks.
She is survived by one daughter, who was her pride and joy, Ashley Torres; four grandchidren: Natalia, Rodrigo, Carmen, and Valentina Torres; her amazing mother, Ruth Melchert; eight siblings: Patsy (John "Jeb") Beaulieu, Harvey Jr. (Sue) Melchert, Kitty Melchert, Bonnie (Kevin) Tassoul, Tony Melchert, Daniel Melchert, Adam (Karen) Melchert, and Alvin (Amanda) Melchert; one brother-in-law, Edgar Blackbull, Sr.; nieces, nephews, aunts, uncles, other relatives and friends.
She was preceded in death by her father, Harvey Melchert, Sr.; three siblings: Donald (Effie) Melchert, Terry Melchert, and Rosa Blackbull.
Visitation will take place on Thursday, June 25, 2020 from 11:00 a.m. until the time of services at 1:00 p.m. at Assembly of God Church, Pastor Lonnie Johnson officiating. Burial will take place in the church cemetery.
The family extends a special thanks to all the first responders and paramedics for their assistance.
Tetwatatnolukhwake (we all love one another)