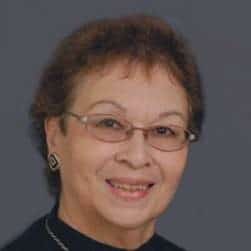 Patricia A. Blochowiak, 83, Green Bay, reunited with the love of her life, suddenly and peacefully, on Tuesday June 9, 2020. She was born June 10, 1936, in Seymour to Reuben and Alma (Cornelius) Smith.
On December 28, 1957, Patricia married John A. Blochowiak. Together they shared 58 wonderful years of marriage. She is a member of St. Joseph Parish in Oneida.
Patricia had been employed with Coffee, Tea & Me until her retirement in 1996, and then John and Patricia enjoyed the next 20 years of retirement together. She loved spending time with her children, grandchildren, and great-grandchildren. Pat cherished time with her loving friends that took her to church and lunches often. She also enjoyed traveling, crafts, and casino gaming. Pat was a very loving mother and so proud of all her family's accomplishments.
Patricia is survived by her 4 children, Lori (Russell) DeStarkey, Mill Center, Larry (Roxanne) Blochowiak, North Chase, Lisa (Tom) Short, Little Suamico, and Mary Wasurick, Sobieski; grandchildren, Kara Gering (Korey), Justin (Ashley) DeStarkey, Lindsay Blochowiak, Christine Blochowiak, Kayla Blochowiak, Brianna Wasurick, Morgan Wasurick, Corey Short, Tara and Mike Dahlke; great-grandchildren, Alexis Gering, Addison Gering, Gavyn DeStarkey, Braxtyn DeStarkey, Scarlet Dahlke, and Asher Dahlke; two sisters and brother in-law, Jeanne Kirby and Barbara (Bill) Leeman; two sisters in-law, Joanne Smith and Trudy Blochowiak; and numerous nieces and nephews.
She was preceded in death by her parents, Rueben and Alma; husband, John; son in-law, Bill Wasurick; brothers, Leon Smith and Bruce Smith.
Friends may call at St. Joseph Catholic Church, 145 St. Joseph Dr., Oneida, from 10 a.m. to 11 a.m. Wednesday. The mass of Christian Burial will be at 11 a.m. at the church. Due to coronavirus restrictions, all attendees will be encouraged to wear masks. Inurnment will be in the St. Joseph Parish Cemetery, Oneida, at a later date.