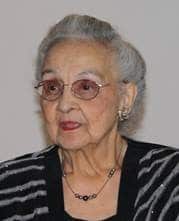 Mary Edna McLester Greendeer, aged 97, born September 4, 1922 – May 27, 2020, peacefully passed away in Oneida, Wisconsin, with her son, George, at her side.
Mary Edna grew up on the Oneida reservation and later relocated to Chicago where she became friends with many Chicago American Indians who were moved away from their reservations during the Indian Relocation Program. The Indian Relocation Act of 1956 was a United States law intended to encourage American Indians to leave Indian reservations and their traditional lands, and to assimilate into the general population in urban areas. 
She became best friends with Susan Power, another iconic leader in our Native community, and together they shared in founding and working with the American Indian Center in Chicago for decades. Upon moving back to Oneida, she worked tirelessly on various Community Action Programs (CAP) and endeavored to aid the working poor.
She created several Native American Women pageant programs to aid the advancement of traditional Native Women and to assert a public presence in the national and tribal communities. From Miss Indian America to Miss Indian World, from Washington DC to Wyoming, Mary Edna gave her best effort to preserve the tradition and culture as an unrelenting Native feminist. Brilliant in her public speaking skills and unapologetically fierce in her position to always protect Native communities. 
Mary promoted and passionately celebrated the arts. She was a professional artist herself, a craft exhibitor and a collector. If she was not working in her community, she was set up at various pow-wows, flea markets, arts and craft shows and trade shows. She proudly travelled around the world showcasing exquisite Native arts and crafts while patiently educating each inquisitive visitor on her collections and the stories behind each piece.
Mary shared a special Mother/Daughter relationship with her daughter-in-law, Elena Greendeer and spent many opportunities performing with her and showcasing our culture to onlooking spectators and within our own tribal communities. 
Nearly 50 year ago, Mary, with the help of Elena, her son, George and his father, Fred Greendeer, they held the First Annual Oneida Pow-wow. Mitchell WhiteRabbit and LaVerne Carrimon took the mic as the Emcees, the Iron Mound drum group headed by Wilbur Blackdeer and Ed Cloud's family drum group set up. Ms. Lorraine and Chief John Winneshiek were called to attend as well. Despite its humble start, the Oneida Pow-wow is now credited as one of the most beautiful and anticipated gatherings at the national level. She made little mention of her contribution throughout her long life but much of a legacy remains in her wake.
Mary Edna is survived by her son, George (Charlene) Greendeer and a grandson she considered a son, Charles "Chucky" Miner, Brother Wendell (Thelma) McLester, Sister in law Pearl (Schuyler) McLester, Nieces Judy (Dan) Cornelius-Hawk, Winnifred Thomas, Pearl "Tiny" (Kenneth) Webster, Janice McLester, Nephew Donnie (Lori) McLester.  Niece Joan (Dave) Davis McLester.
In her later years, she enjoyed being a grandmother to Greg (Beth) Greendeer, Michelle (Lance) Greendeer-Rave, Jon (Chris) Greendeer, Samantha (Cory) Skenandore, Marcus Greendeer, Cherokee Greendeer, Jesse Blackdeer, Verna Blackdeer, Jordan Treankler, Enrique Fiscal, Jr., Nadhidaly Scott, Luis Fiscal, Raysha Nohely Yasvi Begenjova and Kelli Miner.
Mary was blessed with a number of great grandchildren: Logan, Sophia, Karena, Memphis, Silas, Oliver, Leila, George, Brittany, Rio, Lisa, Beth, Kandace, Alexandria, Gavin, Jordison, Victor and one great, great grandchild, Scarlett Alyssa.
She was preceded in death by daughter Karen Lee, brother Lee McLester, brother Clarence "Buddy" McLester, Winifred Masterson, Winona McIntyre, Nephew Gordon McLester, Nephew Wayne McLester and Nephew Ronnie McLester. And many others. 
She was a lifelong member of the Holy Apostles Church of Oneida and a dedicated Oneida Hymnal Singer.
Mary enjoyed her final days in the comfort and care of the Anna John Nursing Home in Oneida, WI. Her stories were always shared with friends, family and staff and most can attest she often spoke of her place of eternal happiness with the Lord. 
On behalf of the family, we express our most sincere gratitude to all those who have wished us well through our loss and wished our Mother, Grandmother, Aunt and Elder well on her journey to the place she's dreamed of her entire life on this earth.
A funeral pre-session will begin at noon through the Parish Hall Parking Lot on Freedom Road at the Holy Apostles Church until the time of service. To watch a livestream of the service for Mary Greendeer today, Monday June 1, at 2:00 p.m. please go to www.vfs.bio/mary-greendeer