Kali photo/Christopher Johnson
The Oneida Nation's Main Casino (pictured), Irene Moore Activity Center (IMAC), and W. Mason Street casinos reopened to the public May 26 following a more than two month shutdown due to the COVID-19 pandemic.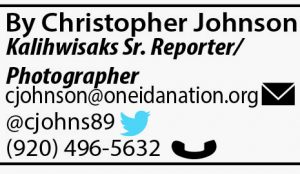 Three of the Oneida Nation's casino locations reopened Tuesday, May 26, with a comprehensive set of safety and health protocols in place for guests and employees. All of the Nation's gaming operations ceased March 18 in efforts to slow the spread of COVID-19, which in turn led to the furloughing of 954 gaming employees. The Oneida Main Casino, Irene Moore Activity Center (IMAC), and W. Mason Street casinos reopened to nearly full parking lots of guests waiting to enter.
Oneida Nation Gaming General Manager Louise Cornelius says numerous measures are in place to ensure the health and safety of all patrons and workers. "A general health questionnaire and daily temperature checks will be taken for all employees," Cornelius said. "Employees in various areas and customers are required to wear a mask and have a temperature reading done before being allowed entry to our properties. We will also have capacity limits in our facilities to ensure proper social distancing. We acknowledge our responsibility as an employer and entertainment facility to open with an environment that maintains the highest level of recommended health protocols possible."
Getting back to work after such a long shutdown is a relief to many who understand the importance of gaming to the Nation. "Of all the possible things that could disrupt the casino, it was truly almost unbelievable that a worldwide pandemic would bring nearly everyone and everything to a halt," Cornelius said. "Everyone knows the revenue stream begins with gaming and many are anxious to return to what is now going to be known as the new normal. I've received hearsay and inquiries almost every week asking when the casinos were going to reopen when the Facebook Live streams have taken place."
With nearly full parking lots at all three reopened locations, capacity limits have also been put in place. "We may reach capacity and may have to turn guests away, or they may have to wait to game, as we are committed to complying with social distancing and keeping our operations as safe and sanitized as we can," Cornelius said. "Internal Security is prepared with a tracking app to monitor capacity at each of our locations."
Table games will remain closed as this initial phase of reopening is focused on slots. This move limits the number of gaming employees being called back to work for the time being. "We estimate the number of employees being called back by the end of the first week of reopening will be about 300," Cornelius said. "The call back process varies from department to department as job duties and responsibilities are different. Employees are being called back first according to the job duties needed to open the casino in phase one. Where there are multiple employees in a position being recalled, the employees have been ranked according to several criteria and when all else is equal it will be by Oneida and Indian preference in accordance with the Tier 5 Layoff plan.
"We will continue to call back additional team members as we engage in other phases of recovery," Cornelius said. "We are putting the finishing touches on our operations to create an enjoyable, fun-filled environment in the safest manner we can. Our goal is to recover our operations in a way that's fun, safe, and secure for our guests and our team members."
Cornelius is more than grateful for the hard work and support gaming has received from other areas and support staff. "I applaud and complement the Gaming Senior Management Team and Executive Staff and all the departments they represent and manage," Cornelius said. "Their leadership is critically important. Everyone has given endless hours above and beyond to make our properties safe for employees and our guests.
"The Gaming Division could not do this without the support and coordination with the Oneida Business Committee, Gaming Commission, Public Health Officials, Central Accounting, and so many others that have assisted in so many ways while we move forward."