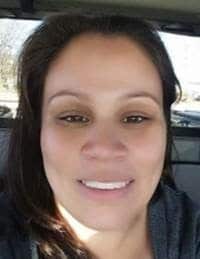 Yotsitsya-k'ele "Jiggy Waterlily" Smith, Oneida, passed away May 21, 2020. She was born April 27, 1982 to Diane Moore and Paul Smith in Oneida. Jiggy attended Seymour High School, as well as Haskel College in Kansas and United Tribe Tech. College in North Dakota. She was a Vault Specialist with the Oneida Nation for 3 years and worked hard for many years doing factory and Housekeeping jobs.
Jiggy grew up in the Oneida Longhouse community. She took many precollege programs, including aviation training. Since she was a little girl, she always wanted to help people. Jiggy enjoyed Bead work, had a great humorous laugh that could fill a room. She also enjoyed spending time with her children and especially drawn to ant baby. Helping others before taking care of herself was the she lived. She was a strong woman who fought for many years to do what was right and move forward with her life.
She is survived by her mom Diane, her children; Ariel Rosemarie Webster, Christian Alberto Frausto, Jose Rodrigo Frausto and Avery Lee Johnson. Her siblings; Meadow (Robert Sanchez) Moore, Latakeh (Tara Adams) Smith, Nikal>tha Smith, Sterling (Chantelle) Webster, Devin Webster, Preston (Sierra Faye) Harrison, and Tavia "Bunny" Moore.
Jiggy was preceded in death by her infant daughter Yoseline Carolina Smith, her special cousins; Krystal Torres Smith, Dwayne Moore, her uncles; Loren Avery Moore, Rory L. Moore, and great grandparents; Bernice Moore, Davis C. Moore, Evans P. Smith and Rose Denny.
Friends and family may visit at Ryan Funeral Home 305 N. Tenth Street, De Pere from 5:00PM – 8:00PM on Thursday May 28, 2020.
Because of Covid, we ask respectfully for social distancing and masks.
Special thanks to Scott Baeten from Ryan Funeral Home, Beverly Scow and family, Heartland Pizza, Angela Johnson, Wise Woman Gathering place, Firekeepers, Tricia and Alison Danforth, Amanda Gerondale, Corey Janiak, and many others who were greatly appreciated.