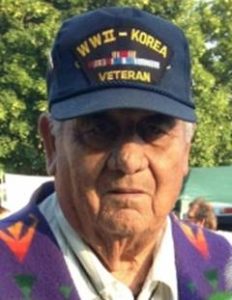 Kenneth (Ken) Hill, 96, Oneida, Wis. Passed on peacefully on May 16, 2020.
Kenneth Hill was born on March 15, 1924 to Margaret Corn/Skenandore at the old homestead
on the Oneida Reservation. He was raised by his grandparents, Jonas and Christine (Ninham)
Hill.
On January 31, 1952, he married Delores Betty Schuyler at the Holy Apostles Church in
Oneida, Wi. They were married for 56 years. Delores preceded him in death on May 30, 2009.
Kenneth worked as a cement finisher for J.C. Basten Co. until his retirement. He was proud to
be a part of the team that worked on the first addition of the Lambeau Field.
Ken served in the US Army, at the end of WWII and again during the Korean War. He was awarded the Good Conduct Medal, Purple Heart, World War II Victory Medal, National Defense Service Medal, Korean Service Medals, (6-Bronze Service Stars, 1-Silver Service Star), United Nations Service Medal, and the Honorable Services Lapel Button WWII. He was an active member of the VFW. He also served on many boards, OHA, Elderly, Vestry for Holy Apostles Church. Ken was an avid golfer, deer hunter, fisherman, and gardener- focusing on the traditional plants and medicines. Ken had a great sense of humor, and was always joking and teasing everyone he met. Every year for Easter, Ken proudly would collect the Holy Water for the Holy Apostles Church. All of these past times would always include his love for the Green Bay Packers and taking rides with his daughter Lisa Hill.
Survivors include his son; Lyle Hill, daughters; Lisa Hill, Laura Hill, Celene (Clayton) Elm,
son-in-law; Orville Cornelius, his sisters; Christine (Babe) Doxtator, Yyonne Skenandore,
Darlene Brickhouse, his grandchildren; Sergeant First Class Travis (Megan) Smith, Garon (Girl-Friend Lyndsey) Smith, Isaiah (Elyshia) Smith, OJ Cornelius, William Cornelius, Schuyler (Jon) Ryerse, Kenneth Cornelius, Jonas (Melissa) Hill, Kylene Hill, Raven Elm, Brionne Elm, Camyrn Hill, Erica Hernandez as well as 36 great-grandchildren, and many nieces and nephews including Bob Bell.
Ken is preceded in death by one daughter; Janice Cornelius, mother; Margaret Skenandore,
siblings; John Hill, Stormy Corn, Betty Powers, Celene Corn, and Joe Corn.
Remember Me
By: Anthony Dowson
Published: January 2016
Speak of me as you have always done.
Remember the good times, laughter, and fun.
Share the happy memories we've made.
Do not let them wither or fade.
I'll be with you in the summer's sun
And when the winter's chill has come.
I'll be the voice that whispers in the breeze.
I'm peaceful now, put your mind at ease.
I've rested my eyes and gone to sleep,
But memories we've shared are yours to keep.
Sometimes our final days may be a test,
But remember me when I was at my best.
Although things may not be the same,
Don't be afraid to use my name.
Let your sorrow last for just a while.
Comfort each other and try to smile.
I've lived a life filled with joy and fun.
Live on now, make me proud of what you'll become.