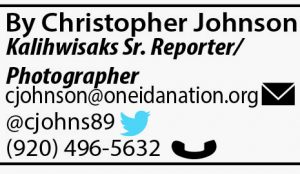 As a result of the Oneida Public Health State of Emergency Declaration made on March 12, 2020, the Nation has been forced to reduce the Oneida Higher Education scholarship to $5,000 per academic year. In a memorandum dated April 20, 2020, Oneida Nation General Manager Deborah Thundercloud announced the drastic reduction from $20,000-$30,000 per student per year due to the COVID-19 pandemic.
"Income generated from Gaming operations is what funds 100% of the Higher Education Scholarship," Thundercloud wrote in the memo. "The Oneida Casino, being the largest revenue source for the Oneida Nation, had to be closed as of March 18, 2020, due to a Safer at Home Declaration. This action has had a severe impact on our Nation's cash flow. As a pre-caution, funds may be limited so students are encouraged to apply and complete your full application as early as possible."
This sudden, drastic cut in financial aid for higher education students is going to be felt for some time, with students attending costlier schools feeling the brunt of this. "I'm guessing we may get a number of students who attend expensive schools who will stop going for now until the amount of the scholarship goes back up to what it was," Oneida Higher Education Manager Mitch Metoxen said. "With these new rules put in place if a student already received $5,000 for this coming fall semester, they've already maxed their benefits and can't receive more funding until next August."
Students who suddenly find themselves on the short end of financial aid are now having to locate alternative sources of funding. "It's too early to tell, but it seems students may elect for student loans or even this CARES Act which is giving money to colleges who may, in turn, develop some type of aid for students who lost out on other grants and scholarships," Metoxen said. "We're hoping this is the case with the CARES Act."
The United States Department of Education and the Bureau of Indian Education (BIE) has held listening sessions in which people can submit specific questions regarding Native student funding. Metoxen submitted questions but is waiting on responses.
"One of the first questions I asked was if they were going to be giving funds directly to students or to tribes to give to students," Metoxen said. "I don't know if that's going to happen or not, but I've heard they're giving money to colleges, including tribal colleges, through the CARES Act. So I'm trying to get clarification on what the CARES Act funding will do for schools and ultimately our students. Obviously, the more information we get to pass on to our students the better we're going to be as advisors."
Metoxen's next question for the panel, also awaiting a response, was regarding the direction schools might take with CARES Act funding those institutions might receive. "Are dollars going to be given to colleges with the direct purpose of supplementing lost tribal scholarships, or will there be dollars given directly to tribes to process for their members," Metoxen asked the panel. "And can the amount considered per college student be proportionate to the pre-COVID amount that the tribe would have given."
Metoxen points out that he is unaware of any tribe that provides a scholarship to its citizens the way the Oneida Nation does. "We made a decision some 20 years ago to give millions of dollars to our tribal members to attend college," Metoxen said. "I don't know of any other tribe that's done that so I just want them to remember that and, when and if they start giving out money, remember that the Oneida Nation of Wisconsin was giving out millions of our own dollars to our own tribal members to attend college…..and now we can't."
It is in each students' best interest to contact their college's financial aid office directly as soon as possible. "We believe that the CARES Act has provided money to colleges to provide to their students," Metoxen said. "Students may want to ask them if they received funds for those students who lost grant or scholarship moneys. We do know that the funds are for students who incurred extra costs due to the disruption of campus operations. For example, if a student had to go online and buy internet connection then this could be for that scenario. Each institution also most likely has their own emergency funds and grant programs that students can apply for. But we don't know if that's a first come, first serve situation so it's in the student's best interest to apply as soon as possible."
"We would like to offer our words of encouragement to each of you as students," Thundercloud wrote. "Please know that we continue to wish you well in your educational endeavors and that the Nation has also declared that upon returning to an improved financial status, it will be a priority to increase the Higher Education Scholarship fund."