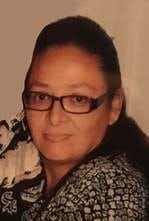 Georgeann Garcia, 50, Chicago, IL., passed away on April 29, 2020.  She was born on December 9, 1969 in Chicago, to Wallean Metoxen and Samuel Garcia.  Georgeann married Santos Garcia Sr. in May 1999 in Chicago.
Georgeann enjoyed Royal RC soda, watching Daddy (Santos) play softball, going to pow-wows and making crafty things like Native American jewelry.  She loved making things by hand for her grandchildren and facetiming with her family.
Georgeann is survived by her husband, Santos; her children Joseph Garcia 35, Miguel Garcia 32, Samuel Godinez 25, Selina Garcia 24 and D'Angelo Garcia 23; her stepchildren she raised, Tony Sexton, Amanda Sexton, Niko Garcia, Gino Garcia and Santos Garcia, Sr.
She is further survived by her grandchildren, Yesniea Garcia, Esmeralda Garcia, Savannah Garcia, Hopie Garcia, Damian Garcia, Evelyn Garcia, Khloe Garcia, Jaida Garcia, Joey Joy Garcia and Jailyn Garcia; and her siblings Joe Metoxen, Samuel Garcia, Mary Garcia, Lorenzo Gonzalez and Katrina Velasquez.
Private visitation will be held at Ryan Funeral Home with burial to follow in Oneida Methodist Cemetery.