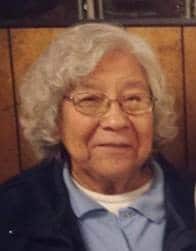 Evelyn Rose Skenandore, 85, Oneida, passed away Friday morning, May 1, 2020. The daughter of George and Mary (King) Metoxen was born on December 13, 1934. On January 4, 1953, Evelyn married Robert "Walter" Skenandore. They had nine children together and Walter preceded her in death in 2007.
Evelyn was an Elder in the Oneida community. She loved her bingo, doing crosswords, watching the Packers and playing slots on her tablet. She liked watching Price is Right and she was even on the show in the late 1970s.
She is survived by her children, Robert Lee (Linda) Skenandore, Elaine (Donald) Terpstra, Debra Skenandore, Jeffrey (Julie) Skenandore, Linda (Brian) Bateman and Kristine (Jim) Hughes. She is further survived by her many grandchildren (31), great-grandchildren (40), great-great-grandchildren (4), brothers and sisters, nieces and nephews and other extended family members.
Evelyn was preceded in death by her husband, Robert "Walter," parents, George and Mary, and children David, Michael and Donna Jean.
Private family services will be held. Ryan Funeral Home, De Pere is assisting the Skenandore family. To extend online condolences, please visit www.ryanfh.com.