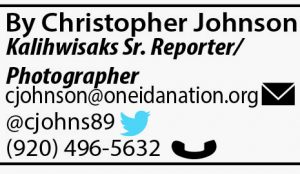 With the Oneida Nation's current Safer at Home Declaration in effect through May 12, the tribe's leadership has decided to reopen its premier golf course. Thornberry Creek at Oneida, along with Hidden Valley Driving Range, are set to reopen to the public Friday, April 24 at 9:00 a.m. with some safety restrictions. The decision to reopen was made after careful review of essential businesses and the expectations for operations and businesses to safely reopen, while at the same time prioritizing the health and safety of employees and customers.
"All golf courses in Wisconsin are now permitted to open April 24 with some limited restrictions," Thornberry Creek at Oneida General Manager Holly Williams said. "Here in Oneida we have some lesser restrictions than other courses around the state. For instance, we're permitting the use of golf carts and our practice facilities will be allowed to open. While our practice facilities aren't ready just yet, we plan on opening them very soon."
With much of the country still in the grip of the COVID-19 pandemic, current safety guidelines weighed heavily into the planning for the reopening. "Social distancing is the key to everything we're performing here on the golf course," Williams said. "Things will be slightly different. A few things we've had to tweak in our process is that reservations and payments must be made either online or over the phone. Our clubhouse and Golf Shop are still closed so the public won't be able to come into the building, but we will be offering limited curbside service for both of those locations.
"For the Golf Shop curbside service we are offering the basics right now," Williams said. "If you need tees, gloves, balls, and things of that nature, we'll take those orders over the phone and bring them out to the first tee when you've arrived. Right now we're doing curbside with our takeout menu as far as the restaurant goes, but that must be consumed off the premises. However, we are still working through that and we hope to have curbside service on the course soon along with delivery. All of that will be taken care of via an app or over the phone so touch-point transactions can be avoided."
Maintaining cleanliness is a top priority as Thornberry Creek at Oneida slowly gets back into the swing of things. "We're permitting one player per cart at this time unless they're part of the same household or living unit," Williams said. "And we'll be sanitizing each of the golf carts in between uses. We've also spaced our tee times a little further apart from 10-minute intervals to 15-minute intervals to promote social distancing. We've placed PVC (thermoplastic) in all of our cups, so the flag sticks are still there but the PVC will prevent the ball from going into the hole. So once a player hits the PVC then the ball is considered in the hole, and we're asking people not to touch the flags.
"Everything we're doing right now is about social distancing," Williams said. "We are being sensitive with that and we're asking people to stay six feet apart, or two club lengths. We're really trying to promote a safer way for people can get outside and get some exercise during this time."
To schedule a tee time at Thornberry Creek at Oneida, simply visit www.golfthornberry.com, or call (920) 434-7501. Upon arrival, check-ins must be done over the phone.