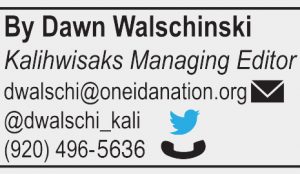 Owner of Old 29 Café Jenette Holl described operating a business during this period of social distancing during the COVID-19 pandemic.
"Painful."
With restaurant dining rooms shut down and non-essential businesses closed until April 24 due to Wisconsin Governor Tony Evers' Safer at Home order, Oneida's small businesses are struggling to stay afloat.
"It's killing us, it's what it's doing, it's killing us. We haven't made any money in two weeks," said Holl.
Old 29 Café, as well as T. Bacon's BBQ Restaurant and Catering, are available for pick up orders.
"We're still open, we're still doing takeout and deliveries, and it's definitely effected the business, our sales are way down, and I'm just trying to keep the doors open to keep my people employed," said Tom Bacon, owner of T Bacon's BBQ, who estimates his sales are down by half.
While restaurants are considered essential businesses, Turtle Island Gift Shop was not.
"It's a struggle, obviously our business is closed. As an entrepreneur I make my income through sales at the store, and then events like powwows which are also non-existent at this time. I'm down to no income," said Darlene Denny, owner of Turtle Island Gift Shop.
Denny had launched an expansion of her business earlier this year.
"It's all about timing, and we opened Inward Bound which is a healing center/art gallery on March 1, and then the pandemic came within two weeks of our opening," she said. "We're hoping we can receive some federal funding that will get us through, and we can start to rebuild what we've lost."
Both Bacon and Denny are using social media to promote their businesses.
"If you do have disposable income and would like to support a small business, we can accommodate them," said Denny who has been selling sage and sweetgrass.
Holl says the current situation is less about the loss of income, and more about the loss of time with customers.
"Without the customers, we wouldn't have this business. It's all about the character of the customers that come in here. They have been trying to be so loyal and spread the word through cell phone and friends," said Holl. "Everybody's hurting, not just business owners, even the older people who don't have a job, they want to get out and have a cup of coffee with somebody."
Old 29 Café is open Fridays from 11:00am to 7:00pm, Sat 10:00am to 2:00pm and Sunday 10:00am to 4:00 pm with a fish fry Fridays and broasted chicken on Sundays. Call 920- 865-2381 to place an order. Old 29 Café is located at 5939 Old Wisconsin 29, Pulaski, WI 54162.
Bacon's BBQ Restaurant and Catering is open 11:00am to 8:30pm Tuesday through Sunday. Call 920 -632-4005 to place an order. T Bacon's BBQ Restaurant and Catering is located at 3120 Packerland Drive, Ashwaubenon, Wisconsin 54115.
Contact Denny at 920-562-0762 to order sage, sweetgrass or to ask about items featured on Turtle Island Girt Shop's Facebook page.